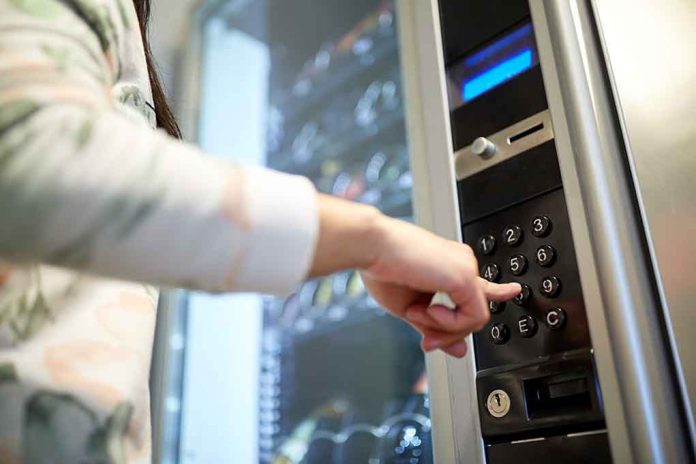 (RepublicanJournal.org) – When most people think of vending machines, they picture snacks, candy bars, or soda, but that barely scratches the surface of available options. Now, consumers can purchase things like electronics, cooked meals, cat hats, and strings for musical instruments from the very same machines. The world of vending grows wilder and more advanced by the day. The future is clearly here, and these companies are already capitalizing on it.
1. Carvana
Need a car? Visit Carvana and browse the vast number of used vehicles available to you. Choose one within your budget. Once the financing is ironed out, buyers have the option of picking their new wheels up from a nifty vending machine.
Carvana has launched its newest car vending machine in Glendale, Arizona, a suburb of Phoenix. #Carvana #carvendingmachine #Glendale

Read more: https://t.co/kvr9ajex0V pic.twitter.com/mcZenLHI0m

— АО «САГА Технологии» (@SAGA_Tech) September 24, 2022
2. Sock Spot
Forgotten socks. Wet socks. Torn socks. They're insufferable, annoying, and frustrating, especially when you're busy and on the go. Instead of leaving your tender tootsies out in the cold, see if you have a Sock Spot vending machine near you. Choose whichever item within their fancy collection of colorful and fun novelty socks suits you best.
3. Moët & Chandon
Picture this: It's New Year's Eve, the ball's about to drop, and you realize there's no champagne in sight to ring in the new year. Horrifying, but fear not! There's a vending machine for that. Moët & Chandon's vending machines, sold by Neiman Marcus and now present in multiple locations around the world, are stocked with bottles of bubbly that come with a tiny serving flute.
What would you like to see available in a vending machine? Do you think they are the wave of the future? Reply to your email and let us know. We'd love to hear from you!
Copyright 2022, RepublicanJournal.org