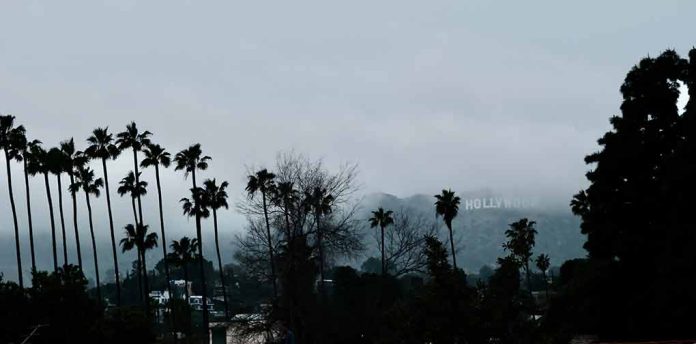 (RepublicanJournal.org) – Los Angeles residents were horrified recently when a woman's dismembered torso was found in a dumpster. The victim has been identified as the missing wife of a low-end movie director. He's now been arrested on suspicion of murdering her and her parents.
Early on November 8, a homeless person searching for recyclables on Ventura Boulevard in Encino, California, discovered a woman's torso and other body parts wrapped in plastic bags. When police investigated, and reviewed security camera footage from a nearby strip mall, they found images of a man throwing items into the dumpster. They identified him as Samuel Haskell, a 35-year-old B movie director and the son of retired executive Sam Haskell III, the former head of an agency that represented stars including George Clooney, Dolly Parton, and Prince Edward, who's now the Duke of Edinburgh.
The sighting of Haskell at the dumpster tied in with another report from the previous day. Haskell had allegedly hired four-day laborers to take away three heavy plastic bags from his home. One of the workers looked inside a bag and saw body parts; they returned the $500 he'd paid them and dropped the bags back at his home. Haskell told them the body parts were Halloween props — but they weren't convinced, and called the police. However, by the time cops arrived the bags were gone.
On November 8, now knowing Haskell had been seen at the dumpster and that his wife Mei Haskell and in-laws Wang Yangxiang and Li Gaoshan were all missing, the police came back. This time they searched his home and found blood and other evidence of a crime. Haskell was arrested for murder and is being held on $2 million bail. His three children were located at school and are being cared for by Family Services.
While Haskell's father has a reputation as "the nice guy in Hollywood," his son has been in trouble before. In 2008 he was sentenced to three years' probation for assault with a deadly weapon. Neighbors say he was obsessed with swords and other weapons; the movies he directed often had a theme of men who fetishize Asian women and then turn violent towards them. Now he's allegedly lived out these violent fantasies in real life.
Copyright 2023, RepublicanJournal.org