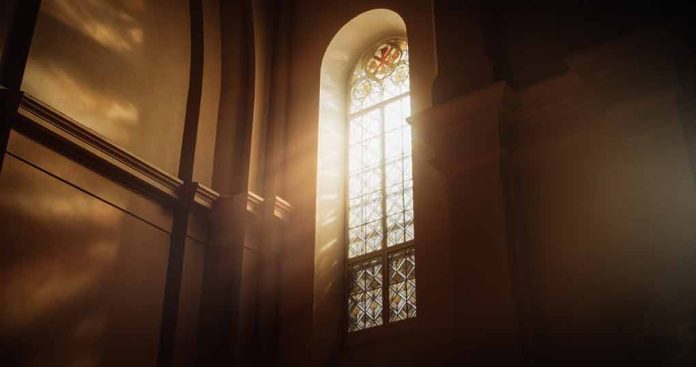 (RepublicanJournal.org) – US soccer player Megan Rapinoe lasted all of six minutes in the National Women's Soccer League Championship before an injury ended her game. The outspoken athlete, who has enraged Conservatives in the past with her woke philosophies, further stoked the flames by claiming her bad luck is proof that there is no God.
The incident occurred on Saturday, November 11, as Rapino's team, OL Reign, went head-to-head with Gotham FC. There's no official word on her injury, but the athlete was fairly certain that she tore an Achilles tendon. Rapinoe had been on defense, and a wrong move caused a no-contact injury that took her to the ground. She appeared emotional as medical personnel went to her aid. She then left the playing field for what might easily be her last time.
At a press conference, the soccer star brought God into the equation of her injury saying "I'm not a religious person or anything and if there was a god, like, this is proof that there isn't."
Rapinoe, who is unapologetically queer, has previously attracted criticism from former President Donald Trump, podcaster Megyn Kelly, and British tabloid figure Piers Morgan. Much of the buzz has revolved around the soccer player's activism for abortion and transgender rights as well as her decision to kneel on multiple occasions during the playing of the National Anthem. She has also been vocal in her opposition to Trump and support of the Black Lives Matter movement.
Rapinoe also made a name for herself by speaking out against unequal pay grades for women, bringing back to the spotlight the fact that females continued to earn an average of 82 cents to every dollar their male counterparts received. She spoke at the White House in 2021, sending a clip viral on X, the social media outlet formerly called Twitter, with claims that despite her contributing to four World Cup championships and winning four Olympic gold medals, she felt "devalued" and "dismissed" because she's female. She said she spoke in support of all people who suffered gender discrimination.
Conservative naysayers say Rapinoe and other athletes should stick to their sports and keep their opinions to themselves.
Copyright 2023, RepublicanJournal.org