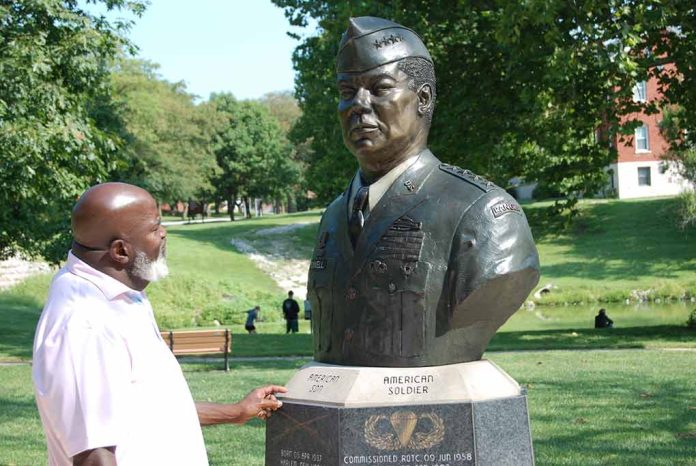 (RepublicanJournal.org) – Thirteen black soldiers serving in the 3rd Battalion, 24th Infantry, were hanged to death on December 11, 1917, on charges of mutiny after they participated in a riot in response to racist treatment. Their deaths marked the largest mass execution the Army ever conducted, and officials later conceded that the move had been racially motivated. In all, 19 participants died by execution, and a total of 110 received convictions over the riot. The US Army, to atone for its racist past, just announced a historic overturn of all the convictions.
As the story goes, the soldiers had been sent to guard a construction site near Houston, but the white locals received them with violence and cruelty. Two black soldiers were beaten and arrested, sparking rumors that more assaults were on the way. A mob formed and stormed the city on August 23, where conflicts came to a head. Four soldiers died in the altercations along with 15 white residents — some of whom were police officers and soldiers.
The 110 individuals the military persecuted over that fateful event received unfair trials, officials now admit, and their convictions were the result of racist values. The Army issued a press release on November 13 stating that the Army Board for Correction of Military Records is discarding their courts-martial convictions and revising the soldiers' files to set their service as honorable.
The US Department of Veterans Affairs is assisting family members who may now be entitled to benefits. Qualifying individuals can submit a DD Form 149, Application for Correction of Military Record to the Army Review Boards Agency, or they can use the Army's online submission form. Applicants must be able to prove their relationship with one of the 110 wrongly convicted soldiers. Family members can also email the Army Review Board Agency at [email protected] for additional information.
Copyright 2023, RepublicanJournal.org