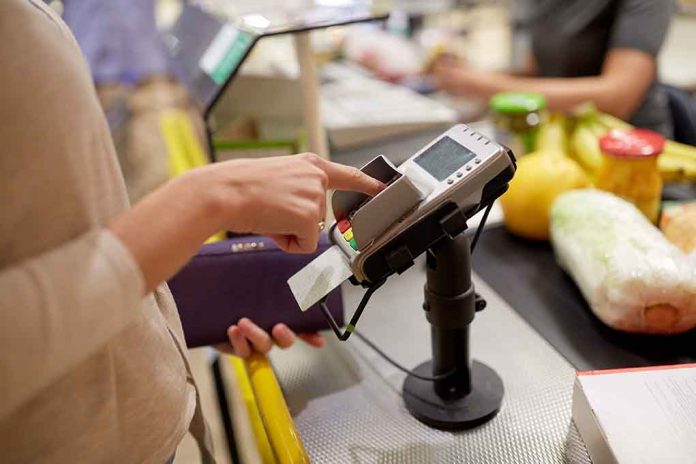 Stock Your Pantry For Next To Nothing With This Government Program
(RepublicanJournal.org) – Are you struggling to afford fresh, nutritious groceries? If you, like millions of other Americans, are struggling to make ends meet, you may be eligible for the Supplemental Nutrition Assistance Program (SNAP).
This program provides more than 40 million Americans with a healthy diet. This program can be used in conjunction with other food programs to help low-wage families and people with disabilities.
After unemployment insurance, SNAP is the most responsive federal program available. If you or a loved one needs help affording your groceries, read more about SNAP, its requirements, and how to apply.
What is SNAP?
SNAP is a government program that provides funding to families who are facing food insecurity. Families whose gross monthly income is less than 130% of the poverty line may qualify for this program.
Eligible families will be issued an Electronic Benefits Transfer (EBT) card, loaded monthly with funds that can be used at participating retailers. The primary goal of this program is to provide low-income families with affording healthy, nutritious food without sacrificing other expenses.
How to Qualify for SNAP?
SNAP requirements will vary from state to state, but there are some minimum federal guidelines. They are:
Assets possession- Your assets should be less than $2,500 unless your family contains an elderly or disabled member. If it does, your total assets can be up to $3,750.
Gross monthly income- Your gross monthly income must be equal to or less than 130 percent of the poverty line.
Net monthly income- After deductions, your net monthly income should be less than $1,732 per month.
Unlike other programs, SNAP is broadly available without some of the specific restrictions that other programs have. This allows for SNAP to assist a broad variety of family structures.
How to Apply for SNAP?
Along with other federal guidelines, you will need to provide the following information to apply for the SNAP program.
1. ID Card
You will be required to provide your identity when you apply for SNAP. Documents that you can use to prove your identity include a driver's license, voter registration card, passport, school ID, or birth certificate.
2. Proof of Citizenship
SNAP is designed for U.S. Citizens and permanent residents. You will need to provide your birth certificate, NSSF, green card, or military records when you apply.
3. Earned and Unearned Income
SNAP has recommended income guidelines for households to qualify. You will be required to provide proof of income when you apply. You can provide bank records, tax records, paychecks, or a formal letter from your employer. Any assets you own, such as vehicles, boats, and properties, should be included in your documentation.
4. Medical Costs
When you are caring for an elderly or disabled person, you should be sure to add all expenses, such as transport and medication costs, to your application. You will also need to provide proof of disability.
How to Apply for SNAP
Once you have all your documentation together, applying for the program is relatively simple. You can apply by phone, online, in-person, or by email.
Be sure to provide truthful and accurate information when you apply, as mistakes can cost you benefits or even keep you from receiving benefits.
SNAP Maximum Benefits
SNAP provides eligible households with monthly funds. For the fiscal year 2022, SNAP is expected to provide the following benefits:
One person – $175 monthly
Two person – $334 monthly
Three person – $520 monthly
Four person $638 monthly
Five person $748 monthly
SNAP Interview
You should hear from the SNAP office within 30 days of submitting your application. They will contact you to schedule your interview, where they will work with you to verify all of the information you submitted. You will also learn more details about the benefits you may qualify for at this time.
What if my SNAP Application Gets Denied?
It doesn't mean you are immediately ineligible if you receive a denial letter. You can appeal the decision. Additionally, your denial letter will include the reason for denial so you can fix it before your appeal.
SNAP has made it easier for low-income families to have access to fresh, nutritious groceries. If you or a loved one needs help fighting food insecurity, contact your local SNAP office to find out more.
Copyright 2023, RepublicanJournal.org