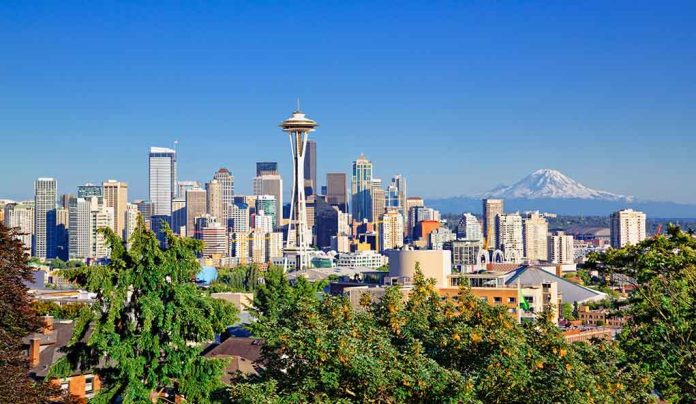 (RepublicanJournal.org) – Elections offices in multiple Washington State counties had to halt operations after a ballot counter discovered an envelope containing a powdered substance. Officials evacuated a handful of locations, all of which received suspicious envelopes, to ensure the safety of workers and visitors. Local, state, and federal investigators are all on the case, but details currently remain limited.
The Washington Secretary of State's office released a press statement on the day of the event. It states that offices in four counties — Skagit, Spokane, King, and Pierce — each received suspicious envelopes containing the substance. Officials at the Spokane Police Department determined that their sample contained the deadly opioid, fentanyl.
State officials saw similar activity in August when tainted envelopes appeared in King and Okanogan County elections offices. The substance sent to King County tested positive for fentanyl, while the powder Okanogan officials found was harmless.
Washington Secretary of State Steve Hobbs said the scares demonstrate the very real threats workers face just to help ensure every citizen's vote counts. He reminded readers that "free and fair elections" are vital to our democracy and called the attempts to undermine it "acts of terrorism."
The Seattle Times reports that a staffer, who was wearing gloves, found the initial threat in an envelope that was not an official ballot. Law enforcement had the location evacuated, and hazmat crews swept the office, which they later determined was safe to reopen. No one reported any injuries or illnesses. In all, the event disrupted the vote-counting process, but only temporarily.
A letter included in one of the envelopes made note of wanting to stop the election, but it didn't mention any candidates or political affiliations. The substance in that sample, which went to an office in Tacoma, was determined to be baking soda. The FBI is also investigating similar cases in Texas, Oregon, and Georgia, but hasn't responded to inquiries as to whether the events are related.
Copyright 2023, RepublicanJournal.org