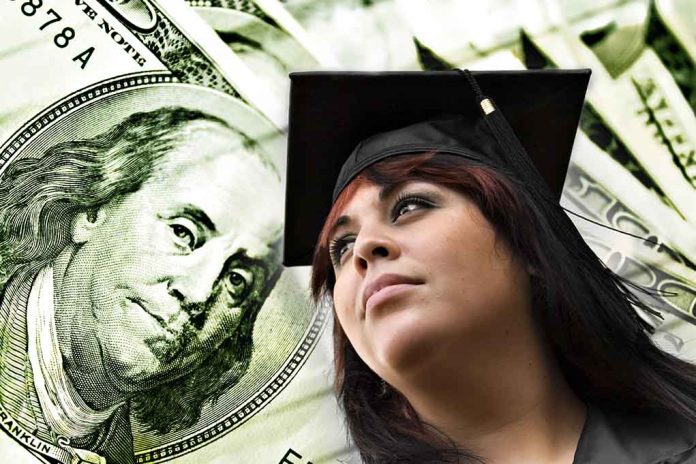 Clever Ways To Pay For College – Ultimate Guide To Finding Grants
(RepublicanJournal.org) – Ensuring students have what they need is a constant struggle for most teachers. Resources are limited and various departments must often compete when it comes time to build the budget. Fortunately, the United States Department of Education works hard to ensure opportunities for as many students as possible. This is in large part due to the Federal Supplemental Educational Opportunity Grant, or FSEOG.
How to Access Federal Government Grant Opportunities
On top of a long and demanding day, teachers know that finding grant opportunities is a daunting task. However, for teachers with impactful, scalable educational activities, there is money out there if you know where to look.
Sources for grant opportunities come in two sizes: small and large.
Small Grants for Educational Purposes
Does your idea require a minimum amount of money? Is it a small, one-time expense? If so, you could qualify for a small grant. Sources such as GrantWatch compile lists of prospective small grant sources so you don't have to scour the internet for each individual opportunity. Some have a rolling application basis while others have semesterly or yearly deadlines. Remember to search both locally and nationally for these opportunities.
You can also reach out to your local school board for assistance or suggestions when it comes to grant applications.
Large Grant Funding Sources for Educators
Bigger grant funding sources are a different game. Some of the sites that compile them and allow you to apply have monthly subscription fees, so you may need to begin by getting a limited amount of funding from your school for that. The main funding sources for big grants are:
Candid
Candid is the amalgamation of The Foundation Center and The GuideStar. Here, you'll find data about the various foundations and nonprofits that provide grants. Candid is the home of the Foundation Directory Online. Subscription required.
Grants.gov
Grants.gov compiles United States government grants from over 26 agencies. They include:
National Institute of Health
Department of Energy
National Science Foundation
These agencies provide substantial sums for educational grants, and it should be one of your first stops. Free to use.
National Science Foundation (NSF)
If you're looking for a science-specific educational grant, you can head directly to the NSF. The NSF is a major funding source for educators looking to run innovative, science-based educational programs.Free to use.
The National Institute of Health (NIH) Office of Extramural Research
The NIH funds more biomedical research than any other organization in the world. You can search their available grants to learn about their various funding sources and objectives. Free to use.
The Grant Resource Center (GRC)
The American Association of State Colleges and Universities operates the Grant Resource Center. This is a database meant to support the staff of public and private academic institutions. Membership required.
Grant Gopher
Grant Gopher's strength is its database organization: you can search by location, keywords, areas of study, or programs. There's also an email subscription list which notifies you of new opportunities. Subscription with free trial available.
The Illinois Research Information Service (IRIS)
The Illinois Research Information Service is an invaluable resource for educators. Don't be fooled by the name: it's available to those outside of the University of Illinois community with paid access. Free for University of Illinois community members; paid subscription for others.
With a bit of funding and some luck, you'll hopefully be able to find a grant that matches your needs. Students, parents, and community members will appreciate all that you are able to accomplish through large and small grants–and these resources will save you loads of time in your search.
Copyright 2022, RepublicanJournal.org