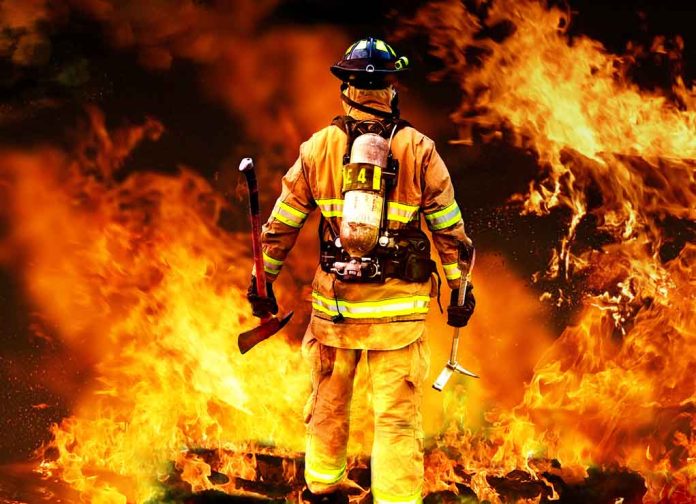 Firefighter FIRED – Going "Woke" Doesn't Pay!
(RepublicanJournal.org) – On Wednesday, August 17, two days after Detective Cesar "Echy" Echaverry was shot while responding to an alleged armed robbery, the Miami-Dade Police Department announced the officer's death. Soon after, a firefighter from the area made disrespectful remarks about the deceased detective in a WhatsApp group chat; news that has ultimately resulted in the loss of his job.
Our heartfelt condolences on the passing of @MiamiDadePD Ofc Echaverry, a hero who laid his life protecting the county he loved – @MiamiPD thoughts and prayers are with his family, friends, and @MiamiDadePD may he rest in peace 🙏🏼💙🖤💙 https://t.co/M5ZCmG7WH4

— Miami PD (@MiamiPD) August 18, 2022
According to reports, firefighter Kevin Newcomb referred to Echaverry as "another dead cop" and criticized the tributes paid to the deceased officer. Newcomb said the local hero was "probably against gun control" and stated that police officers' only function was "protecting the rich… and the status quo."
Joseph Zahralban, the Miami Department of Fire-Rescue chief, revealed that an unnamed firefighter had been dismissed after making the public comments. They said the individual's words had displayed a lack of respect for human life and a violent attitude toward other public servants. These traits made his continued employment with the fire department untenable, according to Zahralban.
Since news of Newcomb's dismissal emerged, there has been an outpouring of support for him from hard-left accounts on social media platforms.
They fired a real one, a firefighter, from a job where they actually save lives. Guess freedom of speech isn't a thing when you call out real authoritarianism? "Disregard for human life?" Lol. Nah. Kevin Newcomb sides with humanity by saying what the cop system truly is. pic.twitter.com/XKGIrYZUYF

— ( Insects Trilling & Chirring ) (@CultureRotter) August 20, 2022
Do you think the fire department made the right call in dismissing Newcomb?
Copyright 2022, RepublicanJournal.org