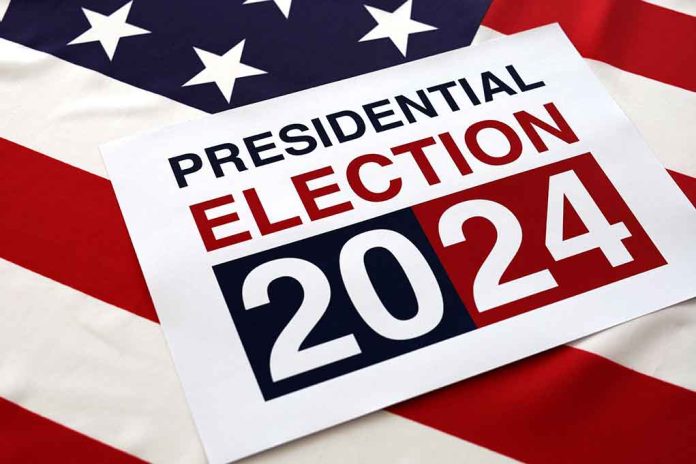 (RepublicanJournal.org) – With the presidential election of 2024 looming larger and larger on the horizon, one question is increasingly playing on the minds of conservative voters: who will win the GOP nomination for the race? The two frontrunners at this point are undoubtedly former President Donald Trump and Florida Governor Ron DeSantis (R). Trump has announced his intention to run (albeit to an underwhelming voter and media response), but DeSantis has not. Why is the Florida governor still playing his cards so close to his chest?
A recent report from 1945 seeks to answer that question. The article notes that DeSantis is already a firm favorite in the polls despite not officially being a candidate at this time. It also highlights the strong backing the popular governor has within the ranks of the Republican Party both in his native Florida and elsewhere across the country.
DeSantis is riding a wave of popularity after a commanding win over Democrat Charlie Crist in November's midterm re-election race. He has also been praised for his no-nonsense conservative politics on a range of key issues.
Analysts have speculated that DeSantis might be delaying announcing his bid in order to rack up more easy political wins in the meantime.
While DeSantis has not waded into presidential politics just yet, former President Trump has been addressing the possibility he will have to face off against his one-time ally. During a recent phone interview, Trump said he "got [DeSantis] elected" to his current position, adding that he and his team would deal with a potential challenge from the governor "the way I handle things."
Donald Trump on Gov. Ron DeSantis (R-FL) potentially running against him in 2024:

"I got him elected, pure and simple … Now I hear he might want to run against me, so we'll handle that the way I handle things." pic.twitter.com/vaFyEauLCG

— The Recount (@therecount) January 17, 2023
A Trump v. DeSantis race will pose some interesting considerations. DeSantis will struggle to go further to the right than Trump on the key issues, and he may therefore have trouble differentiating himself. Despite that, the governor might be able to score political points by criticizing Trump's record during the former president's time in office.
About a year remains until the Republicans pick their candidate, and their choice is still anybody's guess.
Copyright 2023, RepublicanJournal.org