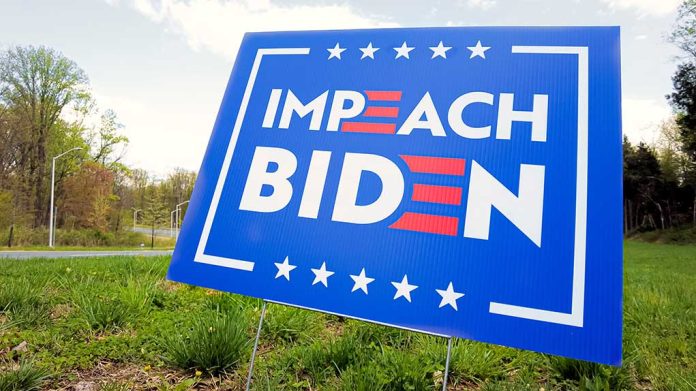 Biden IMPEACHMENT Discovery – This Could Finish Him!
(RepublicanJournal.org) – When former President Donald Trump was in office, Democrats tried to impeach him twice. These attempts ended in failure, with the Senate voting to acquit Trump on both occasions. Now, it looks like current President Joe Biden might have his own impeachment proceedings to contend with if Republicans retake the House of Representatives.
According to the results of a new poll from the University of Massachusetts Amherst, 68% of respondents who identified as Republican and Trump-supporting feel Biden should face impeachment if the GOP retakes the House. Additionally, 66% of people who consider themselves conservative would like to see the president face impeachment.
While a majority of right-leaning voters would like to see impeachment take place, not all are optimistic about the move actually coming to pass. Only 53% of Republicans think a GOP-led House would move to impeach the president, with 44% of the poll's respondents overall in agreement.
SHOCK POLL: Almost 70 Percent of Republicans Say IMPEACH BIDEN After Midterm Win https://t.co/pLyT9PQEFf

— Mediaite (@Mediaite) May 21, 2022
The poll notes that, in order for an impeachment to take place, a majority of Congressional voters must agree that the president has committed treason, bribery, or another high crime or misdemeanor. This is the Constitutional requirement for impeachment. Many Americans will agree that Biden has been an incompetent president, but fewer will be persuaded that he has committed criminal acts justifying impeachment while in office.
What do you think?
Copyright 2022, RepublicanJournal.org