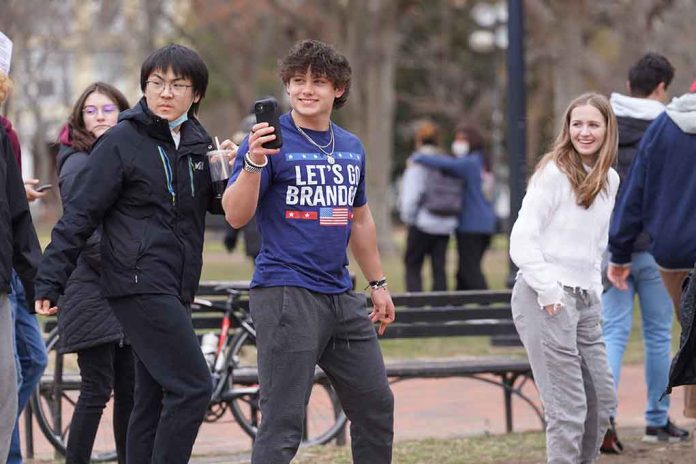 Biden Official Makes EMBARRASSING Tweet – Let's Go Brandon!
(RepublicanJournal.org) – Memes, hats, and signs touting the phrase "Let's go Brandon" quickly gained popularity among Republicans as a rallying cry against President Joe Biden after he took office. Recently, Democrats have been trying to turn that phrase around by creating "Dark Brandon," a daunting figure of strength. One administration member took the movement to a controversial level.
On August 7, President Joe Biden's Deputy Press Secretary Andrew Bates shared a Dark Knight poster adjusted into a meme. It depicted the commander in chief as an anti-Brandon figure donning an eyepatch and suit. An eagle image in the background looks eerily similar to a Nazi symbol from the early 1900s.
Donald Trump Jr. retweeted the meme, questioning why there is virtually no news chatter from the media about the imagery.
So Biden's Deputy White House Press Secretary, @Andrewjbates46, is posting literal Nazi memes on Twitter and our corrupt media is completely silent about it.

I'm sure that if this was a Trump WH staffer, the media would treat it the exact same way and totally ignore it 🙄🙄🙄 https://t.co/FlgrWlVzNC

— Donald Trump Jr. (@DonaldJTrumpJr) August 8, 2022
The original phrase began its spread across the nation in October 2021, when a reporter misheard a NASCAR crowd shouting, "F**k Joe Biden," as "Let's go, Brandon." Many Republicans have since used the phrase to show their opposition to the current president.
According to reports from The National Pulse, many of these Biden creations aren't even originating here in America to counter the Right but are products of the Chinese Communist Party. Either way, many viewers think the images are at the very least "cringe" and, at the worst, dangerous.
What do you think of the whole Brandon/Dark Brandon meme culture?
Copyright 2022, RepublicanJournal.org