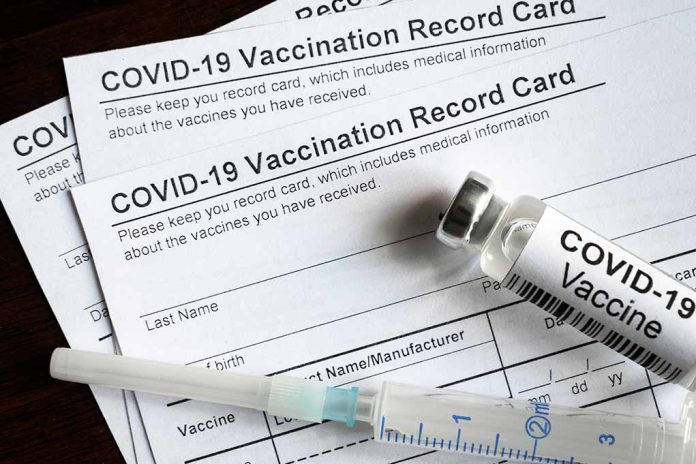 (RepublicanJournal.org) – President Joe Biden makes no bones about his outlook on vaccines; he wants everyone to get one, and he's not afraid to step on toes in pursuit of this goal. He's still pushing a massive vaccine and testing mandate through the Occupational Safety and Health Administration (OSHA) despite legal concerns and pushback from the voting public.
BREAKING: The Biden Administration has released the details of their new big-government vaccine mandate for businesses with over 100 employees.

It's worse than we thought.

(thread) pic.twitter.com/ncE3bx1d7F

— Job Creators Network (@JobCreatorsUSA) November 4, 2021
OSHA's latest mandate goes into effect on January 4, 2022, barring any successful legal challenges. A federal appeals court did issue a temporary stay on enforcement on November 6, 2021, after Texas and several other states sued. The case is in litigation now.  Nevertheless, Biden's plan proposes that staff at any business with more than 100 employees must get vaccinated or submit to weekly COVID-19 testing.
According to OSHA.gov, businesses that fail to comply with the new guidelines face a long list of potential punishments, including stiff fines. Serious infraction penalties start at $13,653 per day, ranging as high as $136,532 for willful or repeated violations. That's more than enough to bankrupt some small to medium businesses.
Additionally, companies will also have to grant employees paid time off to get the shots and paid sick leave to recover from the side effects. Unvaccinated individuals will have to wear masks in the workplace- while those inoculated will not- and unvaccinated will have to pay for weekly testing, likely longer, out of pocket.
Some political analysts question whether the continuing push toward vaccine requirements is a response to, or distraction from, poor Democratic performance in elections last week. Many experts feel a degree of compromise would produce more effective results. Doubling down may keep progressives happy, but it could do more harm than good.
Copyright 2021, RepublicanJournal.org