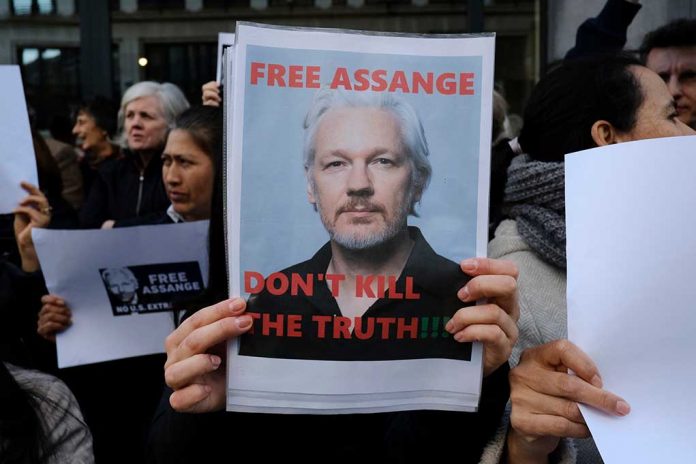 (RepublicanJournal.org) – High-ranking individuals in government agencies leaking sensitive information is a highly controversial topic. On the one hand, they often uncover evidence of unethical behavior by the organizations in question; on the other, they can place high-value government operations (and the people involved in them) at risk. That's why whistleblowers like Edward Snowden and Chelsea Manning receive such stern treatment: Manning was in prison from 2013-2020, and Snowden remains in exile in Russia with criminal charges pending in the US.
Who Is Julian Assange?
Julian Assange's story is a little different, but it treads a lot of the same ground. The Australian hacker first came to fame in 2006 when he founded WikiLeaks, the online forum for explosive confidential information. His efforts were initially celebrated for uncovering the unethical behavior of governments and corporations; he was Time's Person of the Year in 2010.
 However, controversy soon attached itself to Assange's name. Authorities in Sweden began investigating him for assault in 2010, and he surrendered himself to police in London in 2011. A years-long legal battle ensued, during which Assange lived in London's Ecuadorian embassy under political asylum, eventually gaining Ecuadorian citizenship in 2018. After Sweden dropped the charges against Assange in 2019, however, his relationship with the Ecuadorian government went sour, and they revoked his asylum. He has been in a British prison since being arrested for skipping bail in April 2019.
What's Happening Now?
Now, Ecuador has officially revoked Assange's citizenship. Officials in the South American nation communicated this to Assange via mail, citing improprieties in Assange's naturalization application. They allege Assange may have altered documents, left unpaid fees, and committed inconsistencies in the naturalization letter, including using two different signatures.
Assange is not backing down without a fight, however. His lawyer, Carlos Poveda, criticized the decision for not adhering to the principles of due process. He signaled his intention to appeal the revocation of citizenship, stating it was "a matter of respecting rights." 
Is Assange Wanted in the US?
WikiLeaks published thousands of classified US military documents, making Assange a target of the US Justice Department. American prosecutors have indicted him on 18 charges; he could be sentenced to as much as 175 years in prison if convicted of them all. UK Judge Vanessa Baraitser rejected a US application for Assange's extradition in January, but an appeal is upcoming.
There's likely a certain amount of partisanship at play in the DOJ's pursuit of this case. Assange leaked damaging Hillary Clinton emails in 2016, and former President Donald Trump reportedly considered pardoning him, though his ultimate decision was not to cause some controversy.
Free speech and fourth estate advocates still propose Assange should be set free, but that doesn't look likely to happen any time soon.
Copyright 2021, RepublicanJournal.org