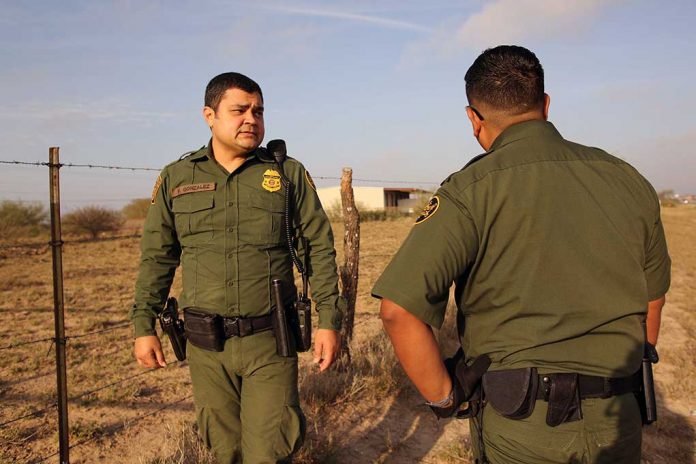 (RepublicanJournal.org) – The latest episode in the ongoing border crisis has seen thousands of migrants, most of whom are reportedly Haitian, gathering near the international bridge at Del Rio, Texas. The surge occurred in the wake of an earthquake in the Caribbean nation. Some Liberals have expressed concern about the treatment these people are receiving at the hands of border police, but it looks like they may have their facts wrong.
Reports of images emerging from the area in recent days suggested police were using whips to keep migrants in check. Among those referring to these reports was House Speaker Nancy Pelosi (D-CA), who mentioned the "inappropriate use of… whips" by Border Patrol operatives in a statement.
However, it's come to light that Border Patrol officers were not, in fact, using whips to deter or discipline migrants in the area. As it happens, the "whips" in question weren't whips at all but rather horse reins. A statement from a Border Patrol source, which you can read in the tweet below, says the implements are mainly "used to steer the horse." The agency was unaware of any cases of officers hitting migrants with the reins.
From a Border Patrol source: "Agents use their reins for a lot of reasons. Primarily it's used to steer the horse, but agents will also spin them sometimes to deter people from getting too close to the horse…We are not aware of anyone being struck with the reins." https://t.co/yxxyoAuklh pic.twitter.com/t3o3h9dJbL

— Julio Rosas (@Julio_Rosas11) September 20, 2021
In a move that could signal a new approach to the border crisis from the Biden administration, US authorities have begun flying planeloads of these migrants back to their countries of origin. Law enforcement officials are also preventing migrants in the group from crossing into the US.
Copyright 2021, RepublicanJournal.org