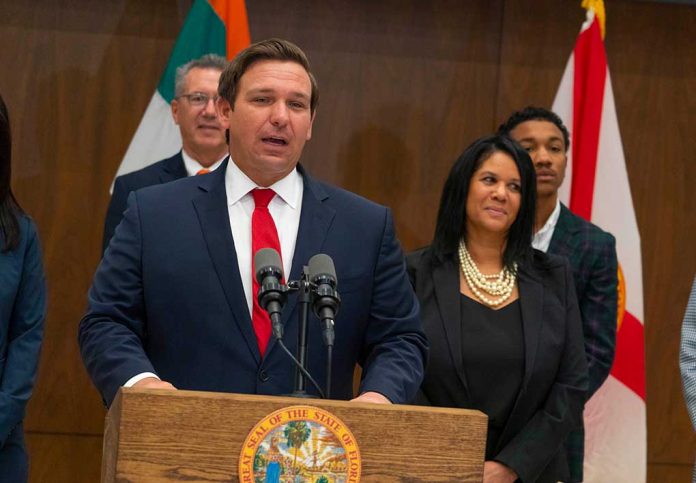 (RepublicanJournal.org) – School should be a safe place where students learn to engage with their world in a healthy way. Recently, some districts made headlines when parents found their children reading a pornographic book. Some had even been asked to recite sexual monologues in front of the class. In light of the disturbing news, Florida Governor Ron DeSantis (R) signed a bill to only allow approved books into his state's classrooms in an attempt to give parents more say over what their kids are learning. However, this law may be backfiring on DeSantis as videos of Florida classrooms without books go viral on the Internet.
On Friday, January 27, Twitter user JagsFanBrian shared a short video of someone walking through a library that does not have books on its shelves. They noted that when they were a kid, they "read books about the consequences of this" widespread book ban.
Since y'all wanna play the "this isn't really happening" game https://t.co/bVUFOXPc6a pic.twitter.com/fUUkJgi5ls

— JagsFanBrian✊🏿✊🏽✊ (@JagsFanBrian) January 27, 2023
Librarians and teachers in some school districts have, in fact, removed all the books from their shelves in an attempt to comply with Florida HB 1467, which tells schools every book available to students must be approved by a media specialist trained by the state. According to The Washington Post, at least two counties in the Sunshine State instructed educators to remove or hide books until they could approve them. They may have otherwise faced up to five years in prison and a $5,000 fine.
While DeSantis claims this new law "ensures curriculum transparency," many parents are angry that for now, their students do not have access to reading materials. Brian Covey, a parent in the Duval County Public School system, told News4Jax that these reports "actually blew [his] mind."
According to Pen America, during the 2021-2022 school year, Florida ranked second in the nation for the number of banned books, with the leader being Texas. While school officials are working quickly to approve books to get them back on shelves, these bare classrooms are certainly upsetting many parents in the meantime.
Copyright 2023, RepublicanJournal.org