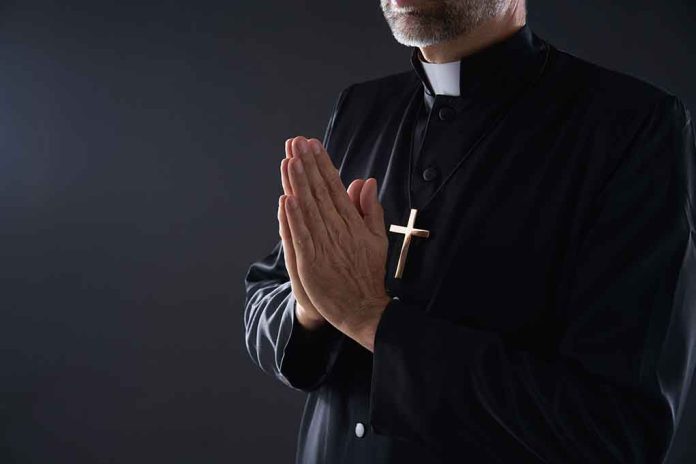 (RepublicanJournal.org) – Openly supporting the policies and actions of former President Donald Trump can have negative effects on a person's career and standing in society. One conservative, pro-life priest who was a MAGA supporter has just been defrocked by the Vatican, and he believes he may have been a victim of his own political and social views.
Frank Pavone, 63, received his marching orders on November 9, but the news did not reach the broader US clergy until December 13. The ultimate decision to defrock the priest came from the Prefect of the Dicastery for the Clergy, who works out of Rome, Italy. The official reason for Pavone's removal from the clergy were his "blasphemous communications on social media" and failure to obey directives from the Vatican, reported the Daily Mail.
High profile pro-life priest and devoted Donald Trump supporter is defrocked by the Vatican for 'blasphemous social media posts' 
via https://t.co/2kqeFCp4DL https://t.co/w6OE1lEl0z

— CN (@22ColeRin) December 19, 2022
Pavone previously served as co-chair of ProLife Voices for Trump. He frequently courted controversy through his social media posts, such as when he posted a Facebook video featuring an aborted fetus. In a tweet posted after his defrocking, the now-ex religious leader implied the move was because of his views on abortion.
Hi friends… So in every profession, including the priesthood, if you defend the #unborn, you will be treated like them!
The only difference is that when we are "aborted," we continue to speak, loud and clear.

— Fr. Frank Pavone (@frfrankpavone) December 18, 2022
Pavone will not get the opportunity to appeal the Vatican's decision, so his defrocking is now final.
Do you think Pavone's dismissal from the Catholic Church is fair given his outspoken positions on sensitive matters like abortion?
Copyright 2022, RepublicanJournal.org