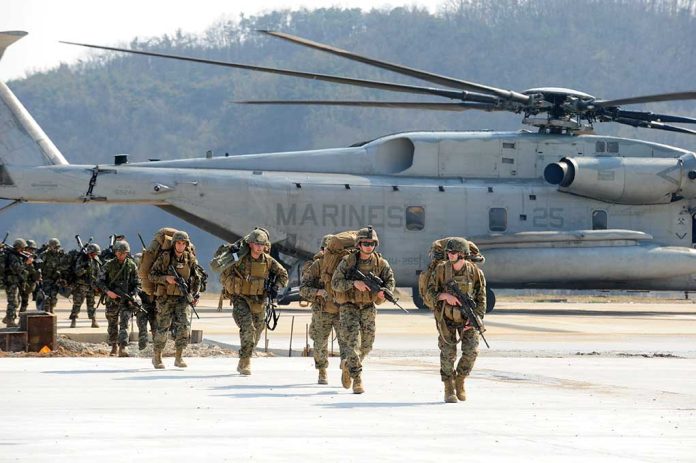 (RepublicanJournal.org) – Roughly 2,200 US Marines assembled along the coast of Pohang, South Korea, for a tactical offensive drill on Wednesday, March 29. Troops practiced using high-end amphibious vehicles and weapons, which took on the appearance of a mock beach invasion. The move came on the heels of North Korea's news about ramping up its nuclear arms arsenals, although officials claimed the joint maneuvers were routine.
Fight them on the beaches: US Marine forces flex their amphibious muscles during assault drills with South Korea in massive display of joint fire power days after North Korea's saber-rattling display of tactical nuclear warheadhttps://t.co/C8PQPQt2kC via @MailOnline

— Frankie Crisostomo (@FrancCrist) March 29, 2023
Wednesday's drill marked the first time the US military had practiced the maneuver in five years. The pause initially began for diplomatic reasons, but the health crisis in 2020 further stalled the military effort. Tensions remain high between North Korea and the western nation, and the return to tactical readiness exercises like these does little to calm the situation. In this case, the timing could look particularly bad.
North Korean leader Kim Jong-un had just released a series of photo ops depicting him "inspecting" a new collection of nuclear warheads, which the socialist leader warned his forces could use "anytime and anywhere," according to Daily Mail. He claimed his military found the means to manufacture smaller nuclear devices, making them more versatile than those used in older missiles. NBC News reported North Korea could design miniaturized warheads for deployment in eight different types of platforms, including submarines and missiles. Russia, a North Korean ally, has also routinely tested its weapons systems in the region.
Another NBC News release stated nearly 800,000 North Koreans have said they would enlist or reenlist in their country's military if the country felt the need to "counter" the United States. A local news outlet said the enthusiasm reflected the "unshakeable will of the younger generation to mercilessly wipe out the war maniacs," whom they claim are "making last-ditch efforts to eliminate [its] precious socialist country." According to Rand, North Korean officials have warned the US that it will view any potentially offensive move — even the interception of a missile headed in its direction — as "an act of war."
Copyright 2023, RepublicanJournal.org