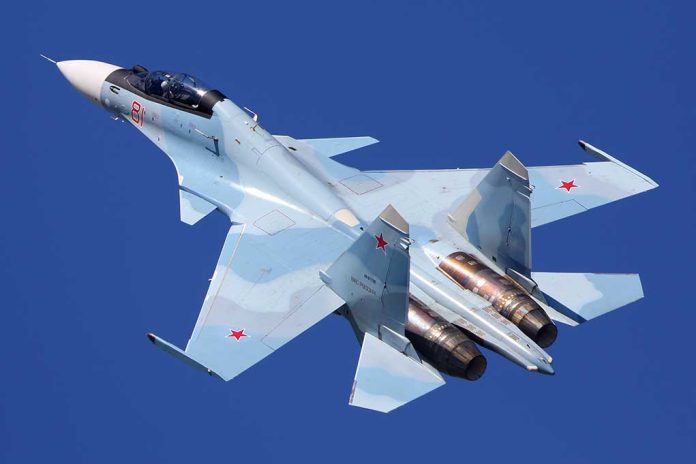 (RepublicanJournal.org) – The US military has not had direct contact with Russia's army during any of the invading country's conflicts with Ukraine over the past year. This strategy has allowed the two powers to keep tensions between them manageable despite disagreements over military aid the Biden administration has sent overseas. Now, a Russian fighter jet has made contact with an American drone above the Black Sea, creating a tricky situation. One lawmaker is particularly furious about the event.
On Thursday, March 16, the Pentagon released a video of a Russian Su-27 fighter jet spraying something, believed to be jet fuel, on the MQ-9 Reaper drone. On the second pass with the liquid spray, the aircraft collides with the drone, and the video feed goes dead for about a minute. When it comes back on, the footage shows one propeller has been damaged.
The Pentagon has released footage of what it claims is a Russian jet pouring fuel on a US drone and clipping its propeller — Russia denies its aircraft struck the unmanned aerial vehicle. pic.twitter.com/06bZpGf79Z

— DW News (@dwnews) March 16, 2023
According to AP News, US Secretary of Defense Lloyd Austin called the incident "aggressive, risky and unsafe." Senator Mike Rounds (R-SD) spoke with Fox News' Jennifer Griffin about the collision, and he told the host he is "p***ed off," adding that Russia "shot down a United States warplane."
GOP senator 'p—ed off' by Russia forcing down US drone: 'We cannot allow that to happen' https://t.co/TCdY4qQJsa

— Fox News (@FoxNews) March 15, 2023
Rounds emphasized that the US must take a firm stance on this so Russia does not continue to push the line and take even greater liberties. According to Fox News, Russian Ambassador Anatoly Antonov said the US should "stop flights near Russian borders." In spite of the warning, Austin noted the US military "will continue to fly and to operate" in accordance with international laws.
Both the United States and Russia are moving to find and recover the wreckage, if such a feat is even possible. The drone remains are likely over 4,000 feet underwater. This incident came just after jets from Germany and Britain were sent to intercept a Russian plane approaching Estonian air space.
Copyright 2023, RepublicanJournal.org