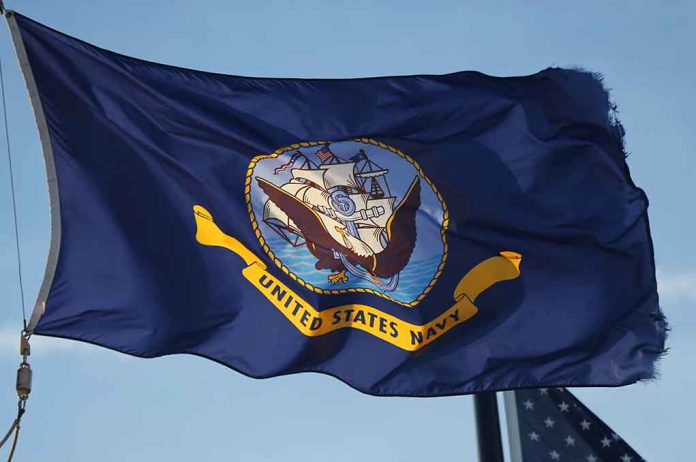 (RepublicanJournal.org) – The U.S. Navy has struggled to meet recruitment goals, but the esteemed military branch remains determined to add 5,000 new soldiers to its ranks this coming year. Hoping to spark interest in a new generation of potential enlistees, officials initiated ambassador programs to connect the branch with broader parts of the community. Its most recent effort, the "Digital Navy Ambassador" program, sought the help of a drag queen influencer.
Navy Hires Active Duty Drag Queen To Combat Sinking Recruitment https://t.co/OoPGjgt2uW pic.twitter.com/DutvcP24Xs

— Daily Wire News (@DailyWireNews) May 3, 2023
Daily Caller reported that yeoman 2nd Class Joshua Kelley, who goes by the drag name Harpy Daniels while on stage, participated in the program from November 2022 through March 2023. The sailor, who identifies as non-binary, used their social media reach to express the "blessing" they've experienced in sharing drag culture with their peers during off hours. Military Times noted that Kelley currently serves as a member of the VFA-115 squadron, assigned to the aircraft carrier the USS Ronald Reagan.
The effort was just the latest in the Navy's Community Ambassador Program, which began in 2021 to expand interest to women and people of color. Officials hope the new recruitment strategies will attract qualified candidates who might not have seen the Navy as a personal avenue, according to USNI News. Recruiters added the digital platform to reach members of Generation Z more effectively.
Life in the military can be demanding, but Kelley has proven members of the queer community can pull their weight. In their first year as a sailor, they became the squadron's president of the Coalition of Sailors Against Destructive Decisions, receiving the Blue Jacket of the Year award and a Navy-Marine Corps Achievement Medal.
Kelley's father was also in the Navy, and the younger sailor followed in their dad's footsteps. The yeoman said their parents were initially confused about their drive to perform in drag, but after seeing Harpy Daniels on stage, their father "finally understood" drag wasn't just a "gay thing," but rather "a way to entertain and inspire others by being bold and beautiful."
Some Republicans aren't impressed. The New York Post stated that members are not only skeptical of the program, and many are slamming the influencer for publishing on TikTok, among their platforms, given the social media site's connections to the Chinese Communist Party.
Copyright 2023, RepublicanJournal.org