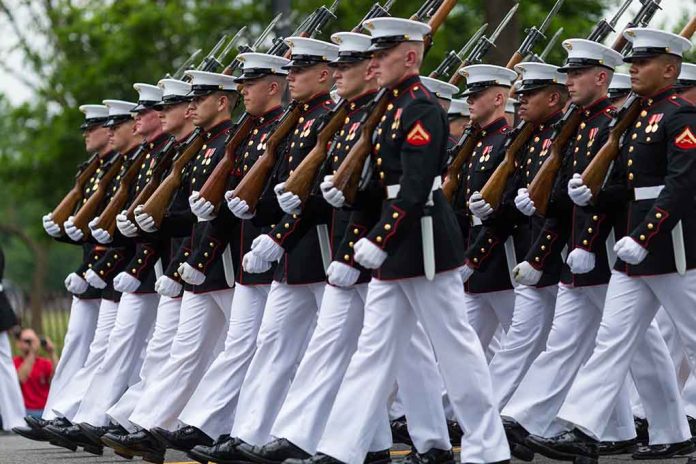 U.S. Marines Cave In To WOKE Culture In Public Display
(RepublicanJournal.org) – June 1 begins Pride Month for the LGBTQ+ community, where members have parades and wave rainbow flags to celebrate their identities. On day one, the US Marine Corp surprised many citizens by marking the beginning of the month with a Twitter post depicting rainbow bullets on a camouflage helmet to honor the "LGBTQ service members" in the Corp. Some commenters wondered if the post was satire, while others blasted the USMC for addressing the social issue.
Throughout June, the USMC takes #Pride in recognizing and honoring the contributions of our LGBTQ service members. We remain committed to fostering an environment free from discrimination, and defend the values of treating all equally, with dignity and respect.#PrideMonth #USMC pic.twitter.com/MOyvFmyJiB

— U.S. Marines (@USMC) June 1, 2022
The Marine Corps seems to have followed its Commander in Chief, who made a proclamation of his own on May 31. He said June was the month the US honors "the resilience of LGBTQI+ people" fighting to be themselves and remain free in the United States. President Joe Biden said the members of the community should have equal rights.
On the same day as the Marine Corp post, the State Department also posted a video montage of the rainbow progress flag in various situations, and the White House donned rainbow lights. The government followed up the post with another one later that day on Twitter, celebrating Pride Month and posting a picture of the pride flag waving in the breeze.
On June 25, the Department flew the Progress flag for the first time over Washington, DC headquarters. @DeputySecState: "The United States is firmly committed to fighting for LGBTQI+ people at home and everywhere." #PrideMonth pic.twitter.com/XkXTwI6iLC

— Department of State (@StateDept) June 1, 2022
What do you think about the USMC posting rainbow bullets for Pride Month? Do you think they should have followed their Commander in Chief's lead?
Copyright 2022, RepublicanJournal.org