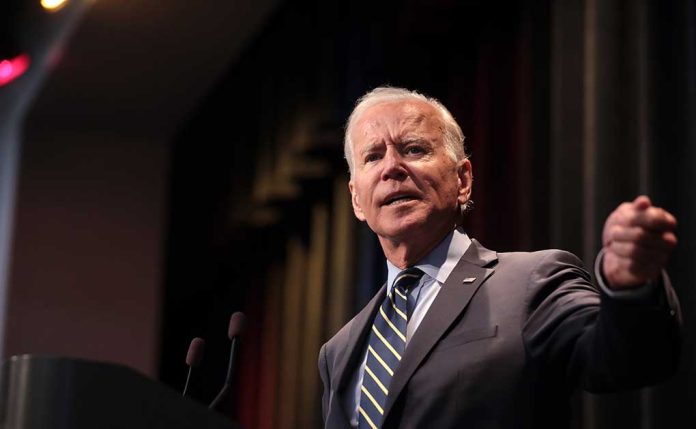 (RepublicanJournal.org) – A politician's words might be incredibly important, but there's so much more that can clue audiences into their opinions, beliefs, and demeanor. So, when a world leader puts a certain backdrop up behind them during a speech, people pay attention. President Joe Biden recently spoke with Americans at Steamfitters Local 602 union hall in Springfield, Virginia, to touch on economic progress his administration has made since January 2021. Twitter users quickly gawked at the images showing up behind the US leader.
On Thursday, January 26, Biden spent quite a bit of time applauding economic growth that has happened within the past few months. A banner behind him read, "Good Jobs, Lower Costs, Better Pay." However, the accompanying symbols were of a worker looking at a clipboard, a downturned arrow, and a money sign. Virginia Governor Glenn Youngkin's (R) Deputy Press Secretary Christian Martinez shared the images on Twitter, noting they read as though indicating Americans were making less money than they used to.
Did anyone in the Biden administration check the logos? Because that's definitely an American worker working for less money. pic.twitter.com/YnRdEFO8q6

— Christian Martinez (@C_RMartinez) January 26, 2023
Other Twitter users chimed in agreeing with Martinez, sharing how they felt the burden of their money not going as far as it used to with the current inflation.
Biden also made a variety of claims about the economy during his speech that was blatantly false. He said his infrastructure plan "funded 700,000 major construction projects," when in reality, it only supported 7,000. The president also insisted seniors would only have to spend a maximum of $2,000 a year on prescriptions going forward, although that aspect of the Inflation Reduction Act does not kick in until 2025.
Biden claimed billionaires only pay taxes equaling around 3% of their income, a number the administration changed to 8% on the official speech transcript. So, as the commander in chief tries to bring his approval ratings back up by touting what he has done for the economy, some Americans are taking everything he says with a grain of salt, highlighting that his rhetoric does not match their current reality.
Copyright 2023, RepublicanJournal.org