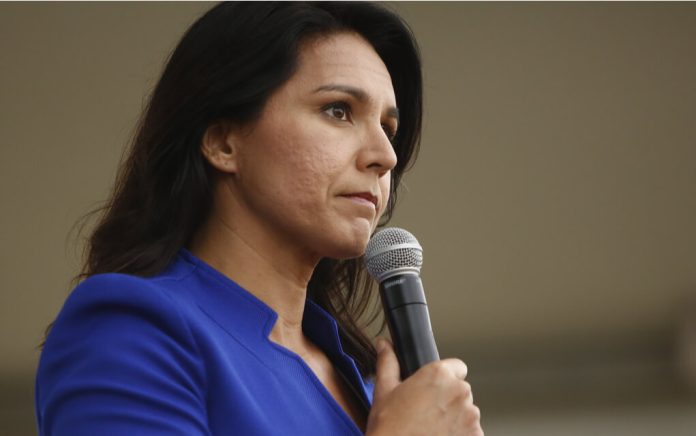 Tulsi Gabbard Says an Elite "Cabal" Controls America
(RepublicanJournal.org) – Tulsi Gabbard, a former Democratic presidential candidate, and congresswoman, proudly served the US through two combat tours in the Middle East and went on to represent the second congressional district of Hawaii from 2013 to 2021. As an Army reserve officer, she remains especially critical of the Biden administration and his fellow party members. Now, she's adding another former title to her resumé; Democrat.
Gabbard recently stated she can no longer remain a Democrat, saying she's not part of the Left and claiming they're under the leadership of an "elitist cabal." Continuing, she said Democrats divide Americans by racializing everything and encouraging anti-White feelings.
I can no longer remain in today's Democratic Party that is now under the complete control of an elitist cabal of warmongers driven by cowardly wokeness, who divide us by racializing every issue & stoke anti-white racism, actively work to undermine our God-given freedoms, are… pic.twitter.com/oAuTnxZldf

— Tulsi Gabbard 🌺 (@TulsiGabbard) October 11, 2022
Gabbard stated the Democratic party has also benefited criminals at the expense of police officers, encouraged open borders, weaponized federal agencies to attack political opponents, and pushed America to the brink of a nuclear conflict. The long-time Democrat declared she believes in a government by the people and for the people, and her former party stands for a government by and for the elite. The ex-legislator urged other moderate Democrats to join her in leaving the party.
Gabbard has criticized Biden's policies, especially regarding the border, Ukraine, and the use of puberty blockers in children. Likewise, she recently went after Biden's vice president, Kamala Harris, claiming she had no place being next in line for the presidency.
The remaining question is, what will Gabbard be doing in the future?
Copyright 2022, RepublicanJournal.org