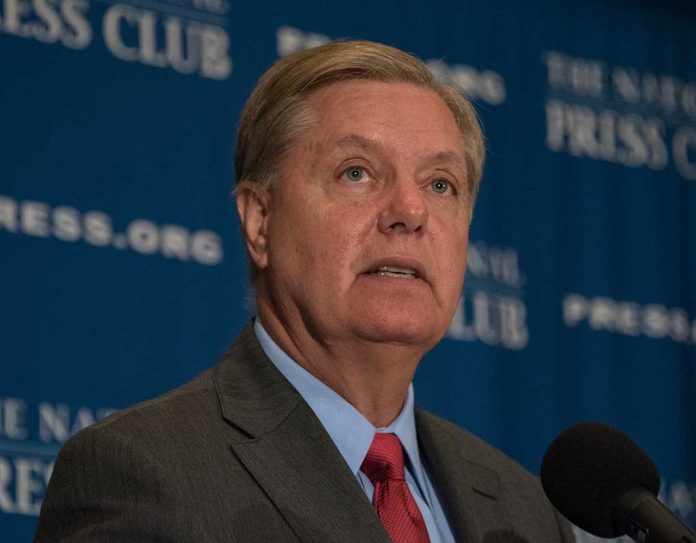 Fox News Host RELEASES LIST Of U.S. Traitors – Calls Them By Name!
(RepublicanJournal.org) – Conservative Tucker Carlson had what some viewers might say was a surprising monologue on his Fox News show on May 11. During his talk, the host targeted many Republicans, claiming they seem to care more about Ukraine than they do their own country.
Carlson pointed to Senate Minority Leader Mitch McConnell (KY), Senator Lindsey Graham (SC), former UN Ambassador Nikki Haley, and other Republicans for their lopsided attention to the Ukrainian war.
Tucker Carlson Torches a Slew of Republicans by Name for Supporting Ukraine Aid, Says Lindsey Graham Is 'Afraid' to Come on His Showhttps://t.co/6PNIKuezWQ

— Mediaite (@Mediaite) May 12, 2022
The host was outraged that McConnell, in particular, said the war overseas was the most important issue currently in the world, asking where the Senate Minority Leader puts the priorities of the American people who are struggling to buy gas and food.
Carlson claims the real problem is that GOP leaders believe everything the New York Times reports, and that it has led them to focus their attention on the wrong issues. According to the host, the Republican leaders' inability to think for themselves is leaving the US vulnerable as the country continues, to its own detriment, to supply Ukraine with weapons.
Do you think the members of the GOP highlighted on Carlson's show are betraying the Conservative party in their positions? Moreover, should the host blast them on public television for their beliefs?
Copyright 2022, RepublicanJournal.org