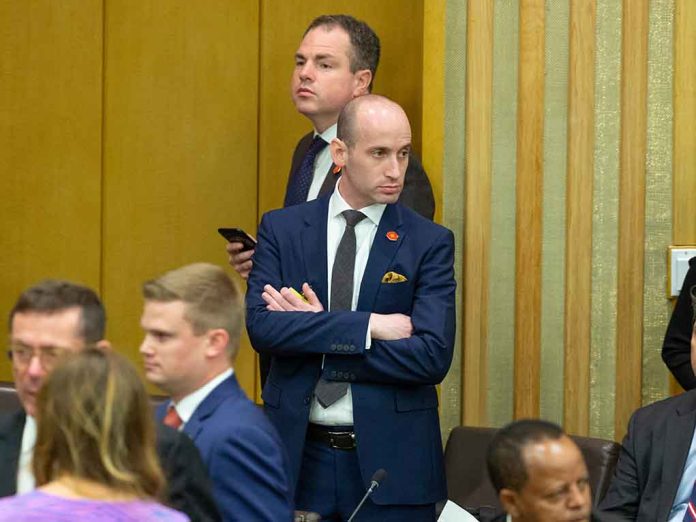 Trump's Adviser Takes the Stand
(RepublicanJournal.org) – Former President Donald Trump is currently gearing up to launch another bid for the White House in 2024. However, the federal grand jury hearing the case related to the January 6 riot at the Capitol Building continues its pursuit of him over the events of that fateful day. Stephen Miller, who served as a senior adviser in the Trump administration, recently took the stand in front of the grand jury.
NEW: Trump WH Adviser Stephen Miller Just Testified For Hours Before Jan. 6 Criminal Grand Jury https://t.co/UbrvlCw2d2

— Mediaite (@Mediaite) November 30, 2022
Miller is reportedly the first Trump-era official to appear before the jury since Attorney General Merrick Garland appointed Jack Smith to serve as special counsel in the case. Though the exact content of what he discussed in the courtroom is not public knowledge, commentators have speculated at what he may have been able to share.
According to CNN reports, Miller discussed the speech Trump delivered in Washington, DC on January 6, 2021, with the House Select Committee investigating the events of that day. That panel operates separately to this grand jury investigation. As Trump's speechwriter at the time, Miller would likely have intimate knowledge of the then-president's thought processes before and during the event. Analysts have drawn specific attention to what Miller may know about the background to Trump's statements about then-Vice President Mike Pence. It is believed Miller and Trump had a phone call on the morning of January 6, during which Pence's potential role in certifying the election results was discussed.
What do you think the outcome of this case will be? Will the grand jury decide to indict Donald Trump?
Copyright 2022, RepublicanJournal.org