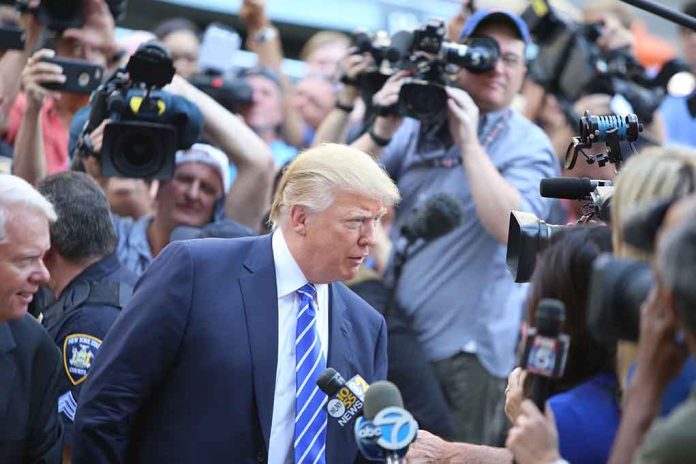 (RepublicanJournal.org) – At the beginning of February, a train carrying chemicals derailed in East Palestine, Ohio, dumping toxins into the surrounding town. The event left the community reeling from potentially harmful chemical exposure on top of the trauma of watching dozens of train cars strewn about the tracks. Former President Donald Trump is now heading to town to support the residents.
In 2020, 53.3% of Ohio voters supported Trump for president. Four years prior, 52.1% of the state voted for him, showing he has a long history of support from local residents. As Trump announced he will head back to the state on Wednesday, February 22, he is showing an ongoing commitment to the people there.
NEW!

President Donald J. Trump:

"Biden and FEMA said they would not be sending federal aid to East Palestine. As soon as I announced that I'm going, he announced a team will go. Hopefully he will also be there. This is good news because we got them to 'move.'… pic.twitter.com/PsE0Brf2vU

— Liz Harrington (@realLizUSA) February 18, 2023
In the wake of this disaster, Ohio Governor Mike DeWine (R) is opening an emergency medical clinic in East Palestine to help evaluate the medical conditions of residents and answer questions about the toxic spill. Department of Health and Human Services (HHS) officials will also be on hand to lend support as well. Right now, the town does not qualify for assistance through the Federal Emergency Management Agency (FEMA), but Governor DeWine went ahead and filed a request to get emergency support on the chance it might qualify in the future.
While the Environmental Protection Agency has tested the air and water quality in a variety of places multiple times and deemed it safe, there are still ongoing concerns about chemical runoff in the waterways and private wells. Officials already took out 8,350 cubic yards of contaminated soil and 1.1 million gallons of chemicals and contaminated liquids from the disaster zone to be disposed of safely.
Despite all of this work to clean up the area, multiple spots downstream of the derailment, including Cincinnati and the Northern Kentucky Water District (NKWD), chose to shut off the intakes from the Ohio River for a few days according to Fox 19.
Trump To Visit Ohio Town After Toxic Train Derailment https://t.co/9WfwfOtHTp

— Daily Caller (@DailyCaller) February 20, 2023
The federal government remained silent on this disaster for days and has yet to send a high-ranking official to the derailment. Trump is using this opportunity to meet Ohio residents where they are when their own government is not.
Copyright 2023, RepublicanJournal.org