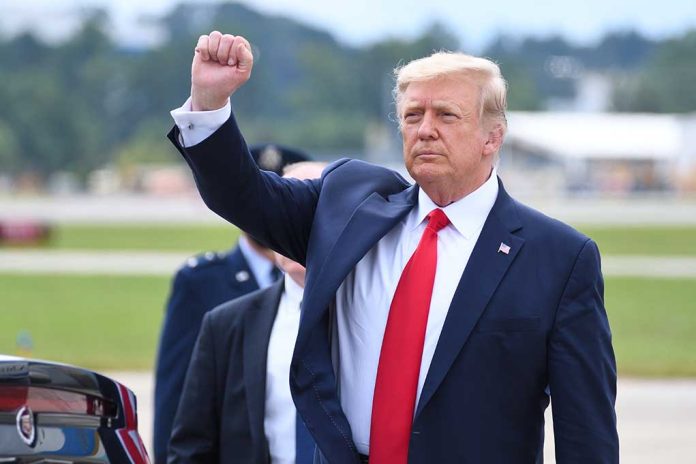 (RepublicanJournal.org) – Former President Donald Trump was the first Republican to put his name in the hat for the GOP's 2024 presidential primary, and he continues to work hard to set himself apart from the potential competition. Above all, he thinks his current stance on Social Security and Medicare, which he says differs greatly from those of Florida Gov. DeSantis (R) and other rivals, will make him president again.
Two Words Donald Trump Hopes Will Get Him Back Into the White House https://t.co/KulJ7lu6fN #TRUMP2024

— Terrence Jackson (@The1Terrence) March 2, 2023
Neither DeSantis nor former Vice President Mike Pence has announced plans to run for the GOP ticket, but the threat of their popularity alone has been enough to trigger waves of attacks from Trump. One selling point the former president feels is necessary to highlight is their apparent shared views on gutting Social Security and Medicare. Trump insists only he will protect these so-called "entitlements."
Trump is absolutely correct that some Republicans want to cut entitlement programs. Pence has outright stated he believes such slashes are essential to balancing the budget. But the 45th commander-in-chief is only partially correct when he attempts to extend the sentiment to DeSantis. PolitiFact states that Trump's reference — a past vote on the governor's part to "cut" about $473 billion in Medicare spending — could look like a huge hit against Social Security recipients if spun the wrong way. While DeSantis did vote for the measure, it merely slowed the rate at which the entitlement would grow in the coming years and had zero effect on current senior benefits.
Some news outlets, like 1945, express doubt about Trump's authenticity. They pointed to the former president's own voting history, during which he made cuts similar to those he'd slammed DeSantis for backing. Even more telling, Vanity Fair stated that Sen. John Barrasso (R-WY) claims to have discussed the subject of entitlement cuts multiple times with Trump, adding that the presidential candidate had talked about making the move "a second-term project."
Copyright 2023, RepublicanJournal.org