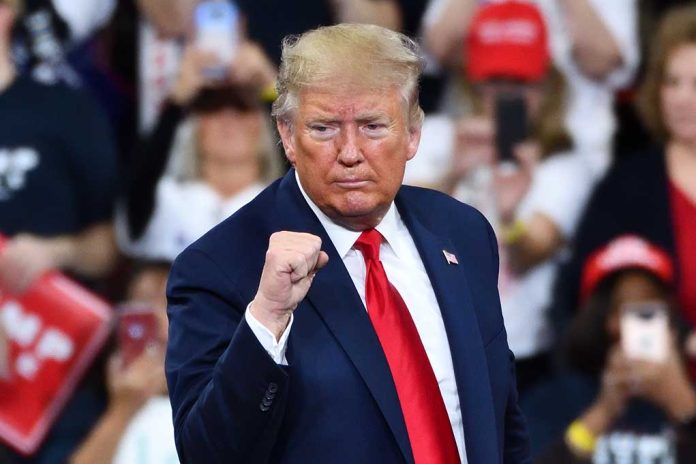 Trump STUNS Rally Audience – Crowd Goes Wild!
(RepublicanJournal.org) – Former President Donald Trump holds a lot of sway among Republican voters. He's been busy in recent months offering his support to candidates in various primaries across the nation ahead of this year's midterm elections. Trump appeared in support of a candidate in Nebraska last weekend, and some elements of his speech have hit the headlines.
Hope to see you at the I-80 Speedway today for the Save America Rally!

Doors open at 12:00PM
Pre-Program begins at 3:00PM
President Trump Remarks at 5:00PM pic.twitter.com/6tFjaXsYHz

— Charles W. Herbster (@CWHerbster) May 1, 2022
Trump took aim at the Democratic Party on several fronts during his speech, which he delivered to thousands of cheering supporters. He slammed President Joe Biden's performance in relation to the border, saying the situation there was a "crime" against Americans. He then commented on liberals' weak stances on crime and the damage this was causing in communities before talking about his opposition to the teaching of "transgender" topics to young schoolchildren.
The former president was stumping for Charles W. Herbster, a GOP candidate for Nebraska's gubernatorial race. According to Trump, Democrats should be "terrified" of MAGA candidates like Herbster because of all the issues they've caused.
Former President Trump also criticized Fox in his speech. He claimed the network was trying to support "Trumpism without Trump," and that other mainstream media outlets were simply trying to censor everything he and his followers were saying.
Do you agree with Donald Trump's take on the Democratic Party and the state of affairs in the country at present?
Copyright 2022, RepublicanJournal.org