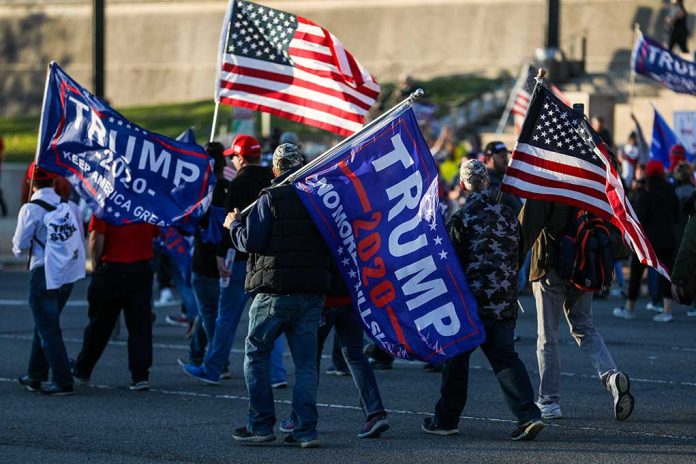 Watch What Happened Outside Mar-a-Lago as Agents Swarmed
(RepublicanJournal.org) – On Monday, August 8, former President Donald Trump informed the media that FBI agents had raided his Mar-a-Lago home in Florida. Though neither the Bureau nor the Department of Justice has commented on the matter, the search possibly took place to investigate the potential mishandling of government secrets. Following the former president's announcement, crowds of people showed up at Mar-a-Lago to support him and protest the alleged FBI operation.
Cristian Benavides of NBC6 was among the journalists to arrive on the scene and document what he saw. Footage from the media rep's Twitter shows a large number of vehicles adorned with patriotic and pro-Trump symbolism and imagery. In the background, an onlooker shouted, "f*** Trump," to which another individual responded, "f*** you."
In the tweet below, Benavides interviews a Trump supporter who arrived in Florida from Cuba almost six decades ago. She questions why the federal authorities are going after former President Trump rather than Democrat-linked figures who are also under investigation.
We spoke to this Trump supporter in front of Mar-A-Lago, a cuban exile who has lived in South Florida for the past 58 years – she says she's there to show her support @nbc6 @NBCNewsNow pic.twitter.com/Kh2NqIp5Ip

— Cristian Benavides (@cbenavidesTV) August 9, 2022
Surely Hunter Biden and Paul Pelosi, House Speaker Nancy Pelosi's (D-CA) husband, also deserve prosecution. The president's son recently came under fire after his laptop emerged at a repair shop containing potentially incriminating data. Mr. Pelosi was recently arrested in relation to an alleged DUI offense.
In a statement, Donald Trump denounced the raid, stating he was the first president to suffer such a fate in history and that the action was unnecessary.
Copyright 2022, RepublicanJournal.org