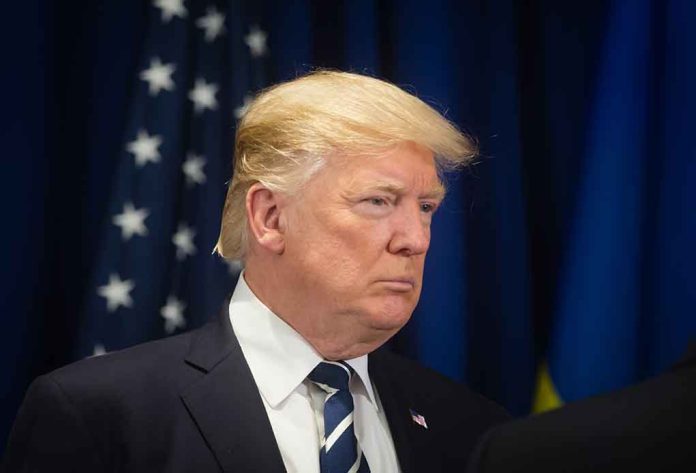 (RepublicanJournal.org) – The likelihood of former President Donald Trump facing an indictment is looking strong, and members of the GOP are flocking to show their support. Florida Governor Ron DeSantis joined the chorus of people accusing the Manhattan district attorney of playing politics by pursuing charges against a former president when crime rates have risen to record highs. Yet, Trump responded to his fellow Republican's words with venom, claiming DeSantis would likely suffer similar — or even substantially worse — accusations compared to those currently threatening to bring down the 45th commander-in-chief.
🇺🇸 Donald Trump has ramped up his attacks on Ron DeSantis, suggesting his rival may face unfounded allegations from "a woman, even classmates that are 'underage' (or possibly a man!)" https://t.co/3JMPhxhRXA

— The Telegraph (@Telegraph) March 21, 2023
POLITICO correspondent Meridith McGraw tweeted a screenshot of a Truth Social post Trump made, in which the former president stated DeSantis would likely suffer his own string of false accusations "as he gets older, wiser, and better known." The post went on to imply that the Florida governor might find himself the subject of a massive scandal brought on by "a woman, even classmates that are "underage" (or possibly a man!)." The post includes an article previously published by The Hill featuring a very young DeSantis drinking at a party with underage girls.
Trump has become increasingly vocal about his contempt for DeSantis, with the threat of a tight primary contest apparently putting the former president on the defensive. In fact, MAGA Inc. went so far as to send a letter to the Florida Commission on Ethics, dated March 14, accusing the Florida leader of breaking the law by acting as "a de facto candidate for President of the United States." The letter alleges DeSantis has been postponing his official declaration as a means "to accept, as unethical gifts, illegal campaign contributions and certain personal benefits" in ways that violate the state's "resign to run law." As a result, the letter demands officials consider impeaching DeSantis, removing him from office, disqualifying his name on future ballots, and imposing severe fines.
DeSantis has taken the attacks in stride, according to the Daily Wire, saying he has far too many important issues on his plate to spend his time "trying to smear other Republicans."
Copyright 2023, RepublicanJournal.org