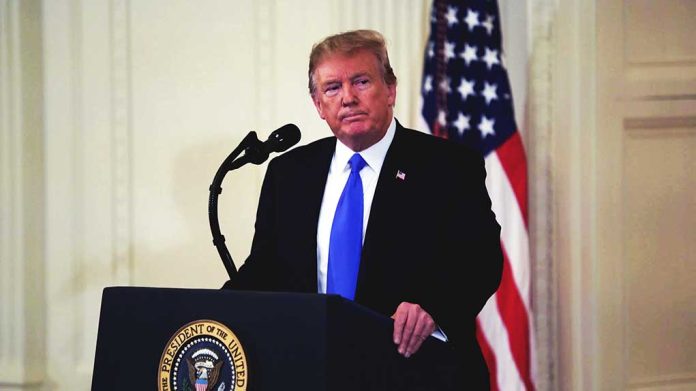 (RepublicanJournal.org) – A party's support during campaign season is essential to a candidate that wants to make it all the way to an elected office. By rallying endorsements, helping bring in donations, and simply providing structure and like-minded peers, each party differentiates how it supports its candidates, giving them their best shot at winning their elections. One long-time state Senator in New Jersey has renounced his allegiance to the GOP after it refused to back him for reelection. Now, he's a Democrat.
On Sunday, February 12, New Jersey State Senator Sam Thompson announced that he is leaving the Republican Party and running for re-election as a Democrat. This decision came after the conservative party told Thompson they had chosen to support Old Bridge, New Jersey, Mayor Owen Henry for his seat in the upcoming primary election.
Thompson, 87, has stood firmly against abortion and gun control during his time in public service and has expressed support for Donald Trump in both elections. Yet, these views weren't enough to keep him in the party, and he even leveled allegations of age discrimination against his long-time friends within the GOP.
Look at this news article from The Daily Caller: Trump New Jersey Republican Samuel Thompson Switching Parties Amid Primary Challenge

Good luck. https://t.co/V3uRQleUbU

— Sam Yaffe (@SamYaffe3) February 14, 2023
New Jersey Governor Phil Murphy hugged Thompson after his surprising declaration and noted the "big tent party" welcomes him, according to the New Jersey Globe.
Middlesex County Republican Chairman Rob Bengivenga told the AP News in an emailed statement that the party had hoped Thompson would remain to advise future congress members in the coming years, even if he lost his seat to the new candidate.
It's unknown whether the Democrats will put forth another candidate to take on Thompson in the primary. Prospective opponents would compete against the seasoned senior Senator, who served in the Army, held a job as a scientist, and has a long tenure in the state congress, creating health insurance for low-income, hardworking families and tax relief to seniors.
Copyright 2023, RepublicanJournal.org