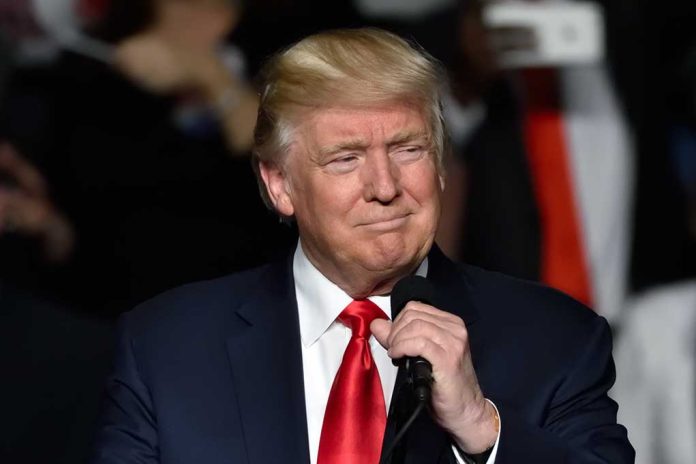 (RepublicanJournal.org) – After not appearing on Fox News for months, President Donald Trump is finally resurfacing on the conservative news network with some regularity. In light of his recent indictment, Sean Hannity allowed the former POTUS to speak on his show for a while at the end of March, and now host Tucker Carlson has done the same. During this chat, Trump shared his experience at the Manhattan courthouse for his arraignment, saying many officials there were in tears over the event.
On Tuesday, April 11, Trump appeared on Tucker Carlson's evening show with Fox News network to speak about everything from President Joe Biden's trip to Ireland and the tension looming over various nations like China and Russia. During the interview, Carlson gave the 45th president plenty of time to say what he wanted, including a bit about how "people were crying" in the courthouse during his arraignment on Tuesday, April 4.
Trump claimed "tears were pouring down" the faces of police and court workers working that day, and many people apologized to him for what they had to do. The GOP primary candidate commented how "in one sense it was beautiful" that people in New York had so much affection for him despite the circumstances. He also claimed "poll numbers have gone through the roof" since his court appearance.
Trump says people were crying and apologizing to him during his arraignment: "In one sense it was beautiful." pic.twitter.com/z1xqw0MbnP

— nikki mccann ramírez (@NikkiMcR) April 12, 2023
According to the Associated Press, Fox News said it was covering Trump again and allowing him to appear for interviews because he's newsworthy instead of an attempt to boost their ratings. However, it's important to note the cable network's prime-time viewers were down 18% in the first quarter of 2023. When the network carried President Trump's Mar-a-Lago speech on the evening of his indictment, the network experienced 6.7 million viewers, almost twice as many as Carlson usually has in the same time slot.
As Trump continues his White House campaign in the coming months, media networks will likely provide him more air time as his loyal supporters rally behind him.
Copyright 2023, RepublicanJournal.org