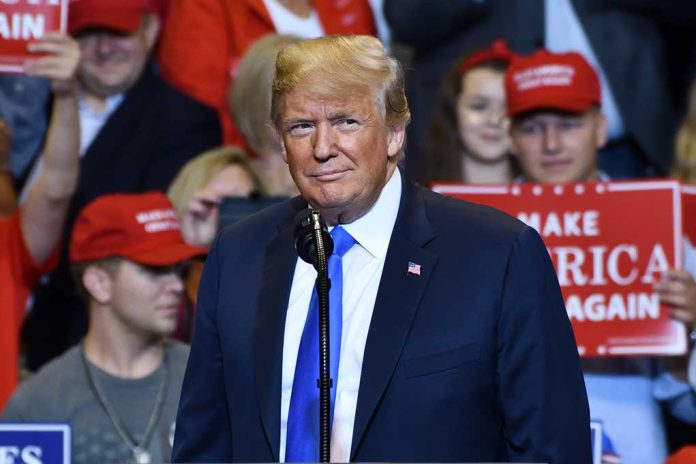 (RepublicanJournal.org) – Candidates have begun preparations to announce their bids for the White House in 2024, each taking stock of the difficulties ahead. On the Democrats' side, any challenge to sitting President Joe Biden's likely try for a second term would go against all the unsaid party rules. Similarly, any Republicans choosing to run must take on President Donald Trump, who has some of the most loyal voters in the country. To prepare for a faceoff, Trump has begun trying out a few different insults to use against a certain southern governor should he choose to run.
On Sunday, February 12, the New York Times (NYT) published an article about Florida Governor Ron DeSantis (R) and his potential 2024 bid for the White House. Within the text, writers Maggie Haberman and Michael Bender highlighted that former President Donald Trump has been increasing his verbal attacks on the Florida GOP leader.
While the 45th president first started the insults years ago with the nickname "Ron DeSanctimonious," he is now trying out other titles like "Meatball Ron" and "Shutdown Ron" according to the NYT. These stabs seem to refer to the 44-year-old's physique and his leadership decisions in the spring of 2020.
Trump Reportedly Roadtesting 'Meatball Ron' and 'Shutdown Ron' as Potential DeSantis Nicknames https://t.co/Mh4CpOPqeR

— Mediaite (@Mediaite) February 12, 2023
Trump also called DeSantis a "RINO GLOBALIST" on his Truth Social site, inferring that his rival was a "Republican in name only," on February 1. He added that the Florida leader "wasted big money" on medical testing over the past few years.
On Monday, February 13, after multiple outlets began reporting on Trump's new nicknames for DeSantis, the former reality star posted that "fake news" sites were talking about how he was spending lots of time figuring out the best way to insult the Florida Governor. The former president said that these reports "are all 100% wrong" as it is "a very unimportant subject to [him]!!!"
For now, DeSantis seems to be brushing off most of Trump's verbal attacks. However, if the Florida governor does choose to run for President soon, he may decide to change this strategy to keep his reputation in good standing for the campaign.
Copyright 2023, RepublicanJournal.org