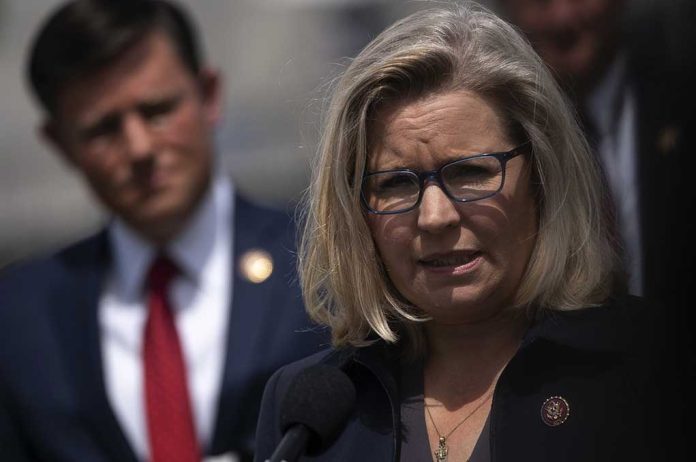 Trump Drops the Hammer – The Message Is Clear!
(RepublicanJournal.org) – Representative Liz Cheney (R-WY) lost her primary to opponent Harriet Hageman in a landslide on August 16. Former President Donald Trump, who the congresswoman has held in her crosshairs for some time, celebrated the news shortly afterward. In a post on his TRUTH Social platform, he declared that Cheney should be "ashamed of herself" for her actions against him in the House. He also congratulated the winner, declaring, "The people have spoken!"
'This was a referendum on the never ending Witch Hunt.' https://t.co/BqxLFhMiME

— The Western Journal (@WestJournalism) August 17, 2022
Cheney had previously voted to impeach Trump before the end of his term. She went on to participate in the January 6 House Select Committee, where the Wyoming leader made it her mission to keep the former commander-in-chief out of office. Citizens of her state sent a clear message in response to the rep's targeted quest.
Although the accused RINO's record shows she aligned with the 45th president's policies most of the time as a strong conservative, that wasn't enough to save her. Cheney's decision to side with Democrats following the riots at the Capitol in 2021 likely contributed to this year's loss. Hageman, who Trump endorsed earlier this year, quickly became a GOP favorite.
Speaking to a group of constituents and supporters shortly after she won, Hageman called the win a monumental success in the fight against intrusive government. She praised Wyoming for coming together to speak out against a game that "…is becoming more and more rigged."
Instead of "disappear[ing] into the depths of political oblivion," as the former president suggested in his post, Cheney doubled down on her intentions during her concession speech. She said following him would have led to the demise of America's democracy and vowed to continue her work to keep the former leader out of the White House.
Trump later responded to the speech, calling the crushed lawmaker a "fool."
Copyright 2022, RepublicanJournal.org