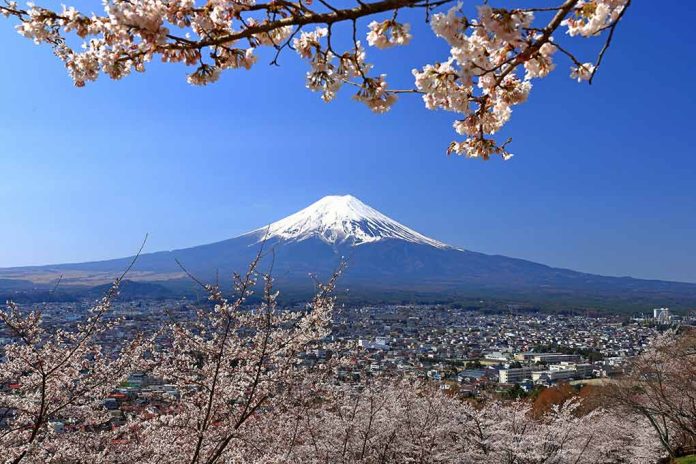 (RepublicanJournal.org) – Florida Governor Ron DeSantis (R) hasn't made an official bid for the GOP presidential nomination, but his hesitancy has done nothing to fend off scathing attacks from former President Donald Trump. The leader of the Sunshine State recently announced he would be making multiple stops around the world to improve Florida's economic ties with foreign powers, prompting a new wave of verbal assaults from the MAGA frontrunner.
Former President Donald Trump ridiculed Ron DeSantis, saying the Republican Florida governor only went on a four-nation trip that began Monday in Japan to "see if he can remove the stain from his failing campaign." https://t.co/jywustyKto

— NEWSMAX (@NEWSMAX) April 25, 2023
DeSantis issued a press release on April 20 offering details about his planned "international trade mission." The Florida politician noted that the state's economy ranks the 15th largest worldwide, and he wants to see his state continue to strengthen its foreign financial ties. Traveling with First Lady Casey DeSantis, Florida Secretary of State Cord Byrd, and the state's Secretary of Commerce Laura DiBella, the governor has planned stops in Japan, South Korea, Israel, and the United Kingdom.
Trump mocked the trip on an April 24 TruthSocial post, claiming DeSantis is making an "emergency" move "to up his game and see if he can remove the stain from his failing campaign." The Florida governor hasn't yet announced a bid for the presidency, but his popularity — at least until recently — has threatened to place him as a possible contender to beat out Trump in the 2024 primaries. Current polls show the former president as the clear GOP leader, claiming 51%, according to FiveThirtyEight. DeSantis is at a steep second with 24.4% of the vote, and only 5.5% of people polled said they would consider Mike Pence.
Further assaulting his only potential rival, Trump recently smeared DeSantis in a new campaign video, which MSNBC shared in an April 26 Broadcast of "Morning Joe." The former president used much of the clip to remind voters that DeSantis was a relative nobody before his endorsement and painted the governor as ungrateful and disloyal toward the MAGA leader.
Copyright 2023, RepublicanJournal.org