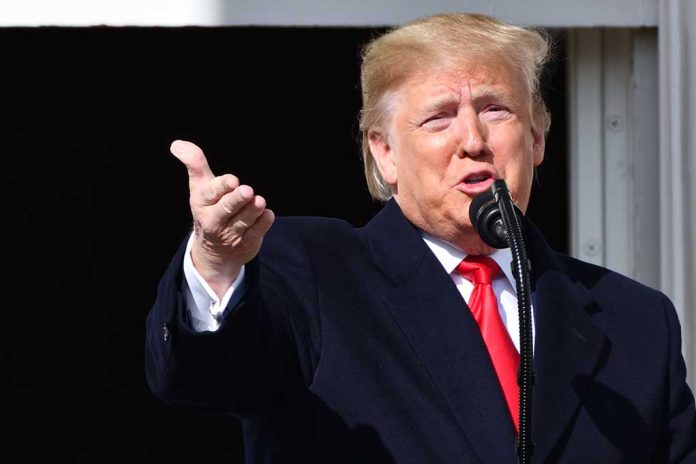 (RepublicanJournal.org) – Former President Donald Trump continues his attempt to retake the White House in 2024, doing rallies and interviews to gain support as more candidates join the conservative primary pool. Recently, he spoke with his old friend Nigel Farage, a British journalist and former leader of the UK Independence Party, while visiting the past commander in chief's Turnberry golf resort in Scotland. During the half-hour exchange, the 45th president scolded Farage for mentioning the 2020 election.
The interview aired on GBNews on Wednesday, May 3, during which time Farage and Trump hit on numerous topics ranging from the US political landscape to the future of the British monarchy. At one point, the British broadcaster brought up Fox News' recent $787.5 settlement in the defamation case brought forth by Dominion Voting Systems, which Trump called "ridiculous." The former US leader instead claimed, yet again, that the "election was rigged, and Rupert Murdoch should have talked about it."
Then, Farage made the suggestion to Trump that if he is going to win the 2024 election, he has "got to send a positive message" rather than highlighting his disputes with the 2020 election. Quickly, Trump interrupted the interviewer and pointed out that Farage, not him, had brought up the election. The former president emphasized that he continues to believe the 2020 voting process was "dishonest." Still, he declared that during an hour-long speech, he would probably "devote 10 seconds," rather than a half hour, to cover that topic.
The interview aired as Trump cut short his trip to Europe, according to The Hill, so he could "confront" E. Jean Caroll in Manhattan about an ongoing civil trial case. The lawsuit, which is wrapping up in New York City, was brought forward after Carroll accused the former president of sexual battery and defamation. Trump claims the accusations are untrue.
Copyright 2023, RepublicanJournal.org