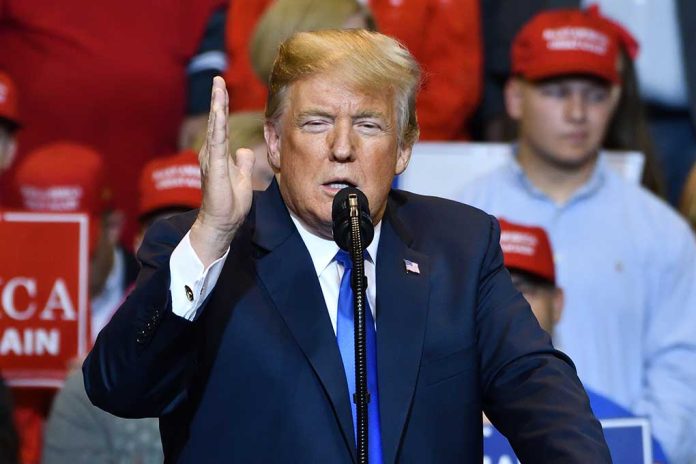 (RepublicanJournal.org) – Former President Donald Trump delivered his first Iowa campaign speech on Monday, March 13. He visited the battleground state only three days after Florida Governor Ron DeSantis (R) made his appearance to discuss educational reform. The 45th commander-in-chief's talking points included stabs at the former ally and the Department of Education (DOE), the latter of which prompted enthusiastic applause.
Trump proposed completely disbanding the DOE, redistributing current federal control over school systems to the individual states. He insisted he had nearly made the move during his previous term in office, adding it was "a long-term goal" that has become "a short-term goal" on his current list, according to Just the News.
Trump vows to break up Department of Education, redistribute its functions to states https://t.co/5endDZBHmk

— Just the News (@JustTheNews) March 14, 2023
DeSantis was the other main target of Trump's attacks. While the Florida governor hasn't announced any plans to run against the former president, pundits feel he's likely to do so at the end of his state's legislative session in May. Trump has taken a preemptive stance regarding the situation because the top Florida Republican remains the only current GOP prospect with a strong enough following to pose any real challenge against him in the primary. The only other well-known contenders, former Vice President Mike Pence and former UN Ambassador Nikki Haley, don't even come close in the current polls — each only has around 6% of voters' support.
Trump slung mud at DeSantis for nearly 10 minutes, berating the leader for his disloyalty and expressing regret over supporting the potential rival in his gubernatorial bid. He claimed the conservative governor begged for the endorsement that helped him win the state leadership position, noting to POLITICO that without his help, the rising GOP star would "be working probably at a law firm, or maybe a Pizza Hut" instead of running Florida.
DeSantis has remained notably silent in response, simply stating he disagrees with "trying to smear other Republicans."
Copyright 2023, RepublicanJournal.org