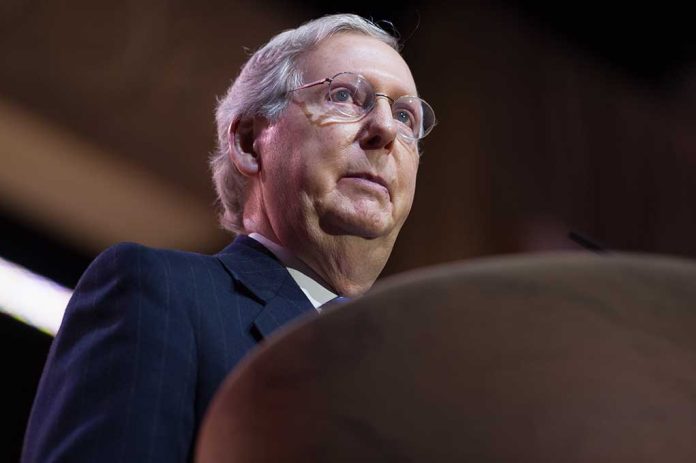 Trump EXPOSES Mitch McConnell – Tells What He's Been Hiding
(RepublicanJournal.org) – It's no secret that Senate Minority Leader Mitch McConnell (R-KY) and former President Donald Trump have had their fair share of disputes. A newly released book, "This Will Not Pass," gives more insight into how the senator really feels about the previous president. Trump was quick to respond to McConnell's alleged words.
Authors Jonathan Martin and Alexander Burns wrote that the Kentucky lawmaker was happy when Trump "discredited himself" after the January 6, 2021 incident at the Capitol. The 45th president not only called McConnell a RINO in response, but he also accused the senator of wanting President Joe Biden to win the Oval Office.
"Mitch McConnell and His RINO Friends Would Rather see a Democrat Like Biden be President than a Republican Like Me" – Trump RIPS McConnell and Disgusting DC RINOs Who Hate Trump and His Voters https://t.co/jzatcvLk1V

— World News Guru (@worldnews_guru) May 2, 2022
When Trump was the president, McConnell earned a reputation for standing against some of the policies the administration wanted to implement for the betterment of the country. The long-time politician worked with former Speaker of the House Paul Ryan (R-WI) to block funds set aside for the border wall and to fight illegal immigration. He also stood shoulder to shoulder with other Republicans in the Senate who refused to discuss changing the Obamacare system.
Although Trump has been vocal about his soured relationship with the Kentucky legislator, McConnell has been largely silent on the matter. Will his recent statements affect his standing in the GOP?
Copyright 2022, RepublicanJournal.org