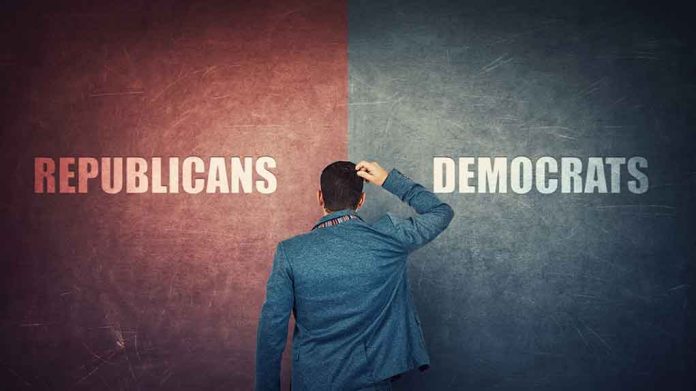 (RepublicanJournal.org) – North Carolina state Rep. Tricia Cotham announced she is no longer a Democrat on Wednesday, April 5. The party switch follows the representative's disillusionment over growing political differences between progressives in the state's legislature, which she claims led to an atmosphere of bullying and abandonment.
Democrats will "villainize anyone who has free thought, free judgement, has solutions," says North Carolina State Rep Tricia Cotham after switching parties.

"If you don't do exactly what the Democrats want you to do, they will try to bully you. They will try to cast you aside." pic.twitter.com/Jhnn1TxXjK

— RNC Research (@RNCResearch) April 5, 2023
The announcement once again put Republicans in the majority and dissolved Democratic Gov. Roy Cooper's veto power in North Carolina and surprised many of Cotham's peers. The newly rebranded Republican had reportedly been at odds with some Progressive legislators, with the rift visibly growing prior to her decision, according to Summit News. One major issue was her use of emojis on social media depicting praying hands and the US flag, which apparently offended her "woke" colleagues. Cotham claims she suffered verbal attacks, including name-calling and people "coming after [her] children."
Cotham called today's Democrats "unrecognizable," claiming the party "pushed [her] out" for daring to veer from their approved path. Summit News added that she chose to turn her back on the Left because she "will not be controlled by anyone," reaffirming her dedication to "work with individuals to get things done."
Tensions rose to new highs when Cotham didn't show up for a recent vote to override Gov. Cooper's veto of a bill removing the need for handgun permits, which gave Republicans a fail-safe majority on the issue. The New York Times noted this was the first time since 2018 that North Carolina lawmakers could override a veto.
Gov. Cooper expressed confusion and disappointment over the shift, stating the representative had campaigned on a progressive platform that included maintaining abortion rights and promoting pro-LGBTQ+ policies. He tacitly expressed hope that she would continue voting along similar principles despite the party change.
The Republican party was quick to welcome its new member. Republican Speaker of the State House Tim Moore applauded Cotham's "bipartisan" position, pointing out the effects "wokeness" has had on the national stage. Other members of the recent Democratic exodus have included Arizona Sen. Kyrsten Sinema and New Jersey Rep. Jeff Van Drew.
Copyright 2023, RepublicanJournal.org