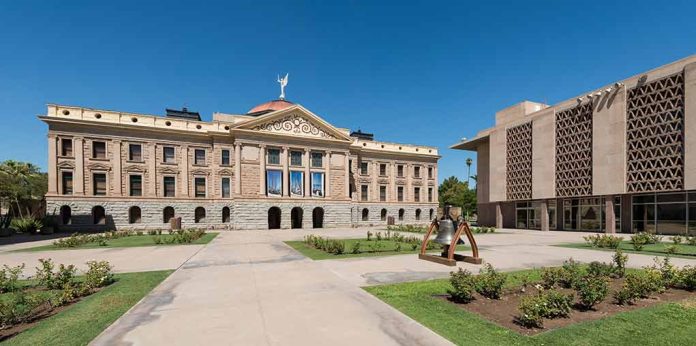 (RepublicanJournal.org) – For weeks, the mystery of the missing Bibles in the Arizona Capitol Building's lounge went unsolved, but a hidden camera finally ousted the perpetrator as Rep. Stephanie Stahl Hamilton (D). The lawmaker recently attempted to dismiss her actions as "playful commentary" and a statement on "the separation of church and state." Republicans are not amused. Arizona's Family reporter David Caltabiano shared the footage on his Twitter feed, sparking outrage.
CAUGHT ON VIDEO: AZ Dem lawmaker/ordained minister busted swiping Bibles from House's members-only lounge. She calls it a ' little playful commentary' for separation of church and state, Republican leadership are not laughing. #azfamily pic.twitter.com/pSPth8jeR7

— David Caltabiano (@DavidCaltabiano) April 25, 2023
USA Today's azcentral.com shared that Arizona House Speaker Ben Toma (R) quietly put up the camera after several Bibles went missing. The books all turned up in nearby hiding spots, with most found beneath sofa cushions. One copy was in the lounge refrigerator.
Caltabiano attempted to question Stahl Hamilton about her actions, but she forced him to chase her through a hallway before rushing off without answering. He shared that interaction on Twitter as well.
Before Rep. Stephanie Stahl Hamilton called it 'playful', we called her — she hung up on me, then we met her with a camera, this is the explanation we got: pic.twitter.com/DuEZEaoGV1

— David Caltabiano (@DavidCaltabiano) April 25, 2023
Speaker Pro Tempore Travis Grantham (R) expressed disappointment in his peer. He said he felt discomfort over Stahl Hamilton's treatment of the numerous book copies, adding, "it's kind of offensive to people who believe in and cherish the Bible."
Hamilton insisted she was merely attempting to make a point. She told Breitbart in her defense, "I am a Presbyterian minister so I obviously don't have a problem with the Bible." The Arizona representative does, indeed, hold degrees from Christian Education from Eastern Nazarene College in Quincy, Massachusetts, and Divinity at Princeton Theological Seminary. Perhaps she never learned in either institution that the Bible typically doesn't go in the refrigerator.
Democrats have expressed their own concerns about the issue — but they're more focused on the fact that leadership didn't tell anyone on the Left about the camera's placement, so they had no idea until the video hit Twitter that colleagues had recorded their actions in the lounge. State House Democratic Leader Rep. Andrés Cano (D) said, "We have members wondering what is public record and what is not."
Lawmakers removed the camera as soon as they obtained their evidence.
Copyright 2023, RepublicanJournal.org