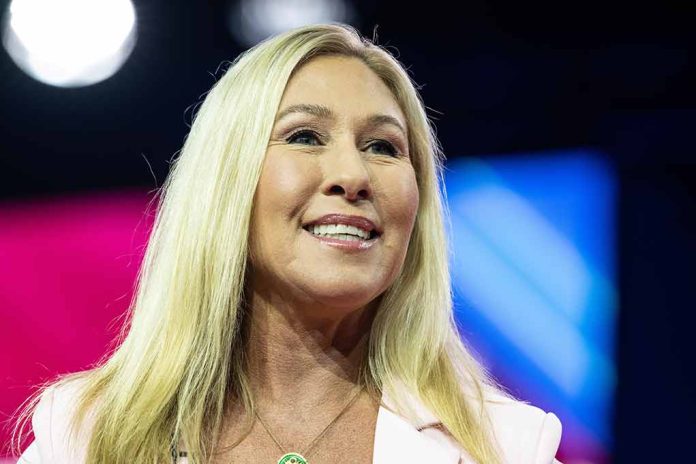 (RepublicanJournal.org) – The House of Representatives met on April 18 to discuss the 2024 budget for Homeland Security. About halfway through the meeting, Rep Marjorie Taylor Greene (R-GA) took the floor to address the fentanyl epidemic — but not without first halting the meeting to call out Rep. Eric Swalwell (D-CA) for his alleged relationship with a Chinese spy.
MTG just dropped a bomb on Eric Swalwell and halted an entire hearing in its tracks pic.twitter.com/g0PeX7hUjQ

— Alec Sears (@alec_sears) April 19, 2023
Swalwell had just finished a plea to his peers to consider the issues of anti-Semitism and anti-police rhetoric in the budget package, but his message had come embedded with multiple jabs at the GOP. He specifically pointed to Donald Trump, sharing a tweet in which the former president told Republicans they should "defund the [Department of Justice] and FBI until they have come to their senses." The California representative shifted his attack to Marjorie Taylor Greene and other MAGA Republicans for spreading similar anti-police rhetoric.
Greene responded by slamming Swalwell's presentation, calling it "quite entertaining from someone that had a sexual relationship with a Chinese spy." With a grin, she added, "And everyone knows it." Rep. Dan Goldman (D-NY) moved that the committee strike Greene's words. Rep. Mark Green (R-TN), the committee chair, asked her if she wished to retract her statement, and she rejected the request that she do so. After carefully considering the House rules, the chair opted not to strike her words.
The move derailed the meeting, with Rep. Bennie Thompson immediately responding with a statement condemning Greene's conduct. "I'm appalled […] we all ought to be embarrassed." He asked for an appeal, prompting Goldman to interject again, demanding the chair defend his decision. Green refused and promptly sent the matter to the vice chair, Rep. Michael McCaul (R-TX), who "move[d] to table the motion."
Greene's comment wasted over eight minutes of the committee's time. Afterward, Green offered the Georgia representative "an extra 10 or 15 seconds" to speak due to the stopping of the clock.
Copyright 2023, RepublicanJournal.org