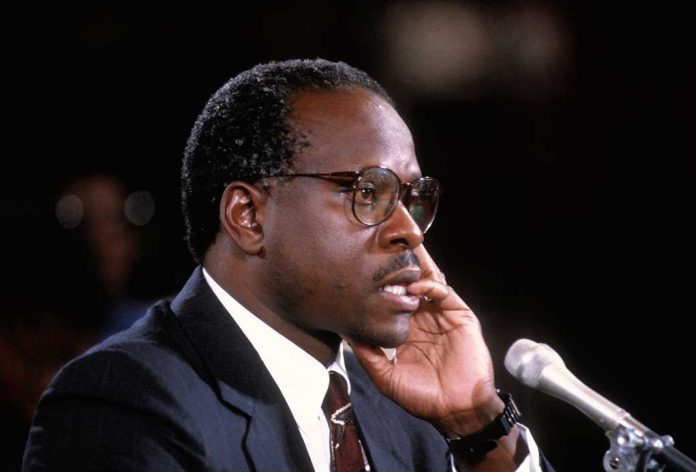 Clarence Thomas Is Reportedly in DANGER
(RepublicanJournal.org) – The US Supreme Court has been the object of much liberal fury over the last number of days following its 5-4 vote to overturn the landmark case of Roe v. Wade. This decision has removed legal protections for abortion at the national level, meaning Republican states are now free to ban the practice. Justice Clarence Thomas has received particularly nasty criticism from the Left following the verdict.
On Saturday, June 25, the term "Uncle Clarence," regarded as a racial slur against the conservative African American judge, began trending on Twitter.
The racial slur "Uncle Clarence" was trending on Twitter as leftists on the platform lashed out against the Supreme Court after it overturned Roe v. Wade, along with death threats against Supreme Court Justice Clarence Thomas in particular. https://t.co/T9S7cJjPiK

— Breitbart News (@BreitbartNews) June 26, 2022
Other Leftists on the platform went as far as to threaten violence against the judge, with some even using the phrase "Kill Clarence Thomas." Other tweets described Thomas as a "house n****r."
Kill Clarence Thomas
KILL CLARENCE THOMAS#WeWontGoBack pic.twitter.com/QybF8AGm0o

— funny little RODENT (@oiliers) June 25, 2022
The Left's targeting of Clarence Thomas is nothing new. A liberal-backed campaign to impeach the SCOTUS judge has been ongoing for months now, with advocates claiming his position is untenable because of his wife, conservative activist Ginni Thomas. Mrs. Thomas was a strong supporter of former President Donald Trump during the controversy that arose surrounding the presidential election of 2020.
Justice Clarence Thomas is generally viewed as the most right-wing judge on the SCOTUS bench. Regardless of his stances, however, racist and violent comments from liberal social media accounts remain entirely unacceptable.
Is this behavior making the Left look any better in the eyes of Americans?
Copyright 2022, RepublicanJournal.org