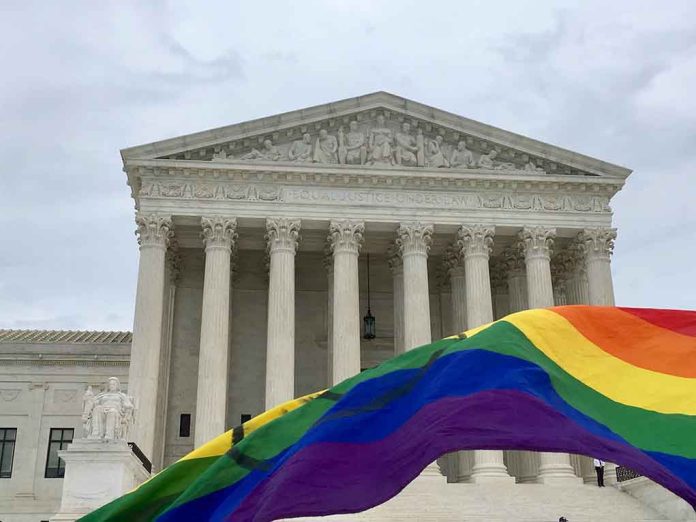 Legislative Gay Marriage Bill Arrives At Senate For Vote
(RepublicanJournal.org) – After the Supreme Court's decision to overturn Roe v. Wade, the Left expressed concern that other protections may be at risk. A bipartisan group of senators recently announced a deal on November 14 that would preserve same-sex marriage protections provided by the Supreme Court. The upper chamber of Congress scheduled the first vote on the matter for November 16.
JUST IN: Senators set to vote on bill to codify Supreme Court's same-sex marriage protections https://t.co/JOBZ20X8vY pic.twitter.com/5f9m0RYLQH

— The Hill (@thehill) November 14, 2022
According to The Hill, Senator Chuck Schumer (D-NY), the Senate Majority Leader, filed cloture for the bill the same day the bipartisan group consisting of Senators Susan Collins (R-ME), Thom Tillis (R-NC), Rob Portman (R-OH), Kyrsten Sinema (D-AZ), and Tammy Baldwin (D-WI) announced the legislation. Schumer's filing suggests the bill has the necessary support it needs to overcome the filibuster and get passed.
The Majority Leader needs at least 10 Republicans to support the measure for it to have any chance of making it through the Senate. On November 16, the upper chamber of Congress opened it for debate, a sign that enough Republicans supported it. Senators voted to allow the proposal to move forward 62-37, with 12 GOP lawmakers approving and getting the bill over the 60-vote filibuster threshold.
If the legislation passes, it will codify same-sex marriage protections. It would also safeguard conscience protections, uphold religious liberty, and protect the rights of religious non-profits to reserve the right to refuse service to anyone. In this case, that means giving groups the ability to refuse services that would support same-sex marriage. If the Senate passes the bill, it will still need to go through the House, which has passed similar legislation, before landing on President Biden's desk.
Copyright 2022, RepublicanJournal.org