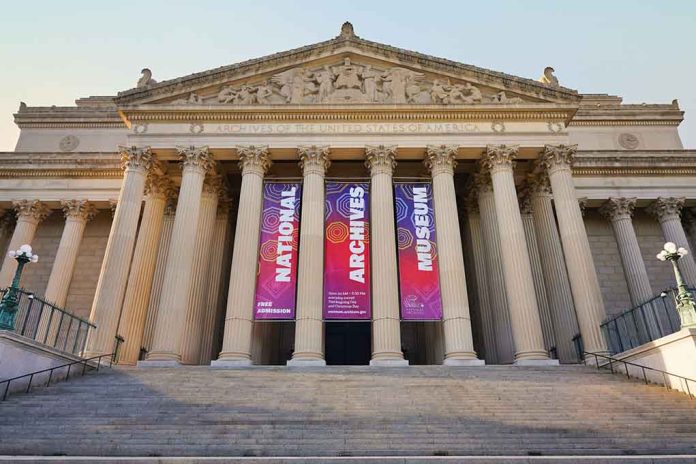 Leftists Look To DESTROY American History
(RepublicanJournal.org) – In recent years, liberal commentators have increasingly tried to push the idea that American history is rooted in racism. This movement has arisen most infamously in the debate around critical race theory (CRT) and the 1619 Project, hypotheses that propose our society is structured around racist ideologies and principles that benefit white people at the expense of minorities. Monuments to this type of rhetoric are now on show at our National Archives Museum.
The location hosts artifacts like the US Constitution and the Declaration of Independence and celebrates a range of leftist ideals. For example, it has the 1619 Project book on sale in the gift shop, as well as material celebrating noteworthy Americans who predominantly come from black and other minority communities. The museum itself has a large number of exhibits that promote liberal ideas.
National Archives Museum Now A Shrine To Hard Left, Thanks To Bureaucrat Behind FBI's Trump Raid https://t.co/3D3QHCtmGt pic.twitter.com/8X0ngrhBQ1

— Daily Wire (@realDailyWire) August 16, 2022
The museum's leftist leanings began in 2009 under the stewardship of former Archivist David Ferriero, who was appointed by then-President Barack Obama. The official stepped down from his position earlier this year to ensure he would be replaced by a Democratic appointee. He has been forthright about his liberal beliefs and opposition to conservatism. Allegations Ferriero made about the 45th president's handling of objects from the White House reportedly contributed to the signing of the warrant that permitted the search of Trump's Florida residence earlier this month.
Do you think it's acceptable that this kind of partisanship can affect an institution like the National Archives Museum?
Copyright 2022, RepublicanJournal.org