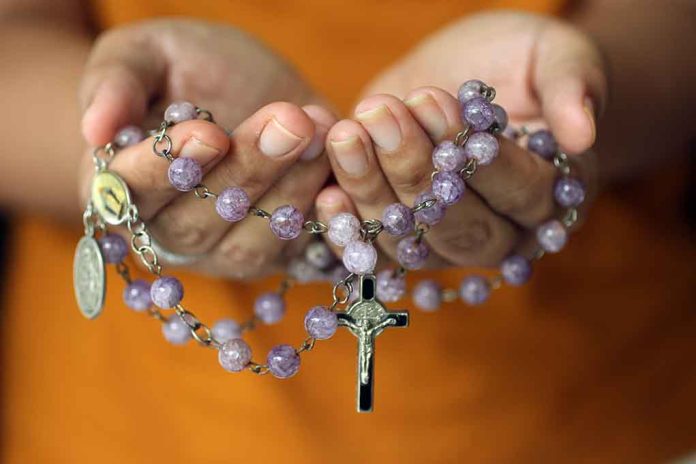 "The Atlantic" Targets RELIGION – They're Regretting It Now!
(RepublicanJournal.org) – Writer Daniel Panneton recently penned an opinion piece for The Atlantic titled, "How the Rosary Became an Extremist Symbol." According to reports, the outlet used an image of the rosary with bullet holes in place of beads, prompting backlash from the Catholic community as well as title and picture changes for the article.
The paper changed the controversial title to "How Gun Culture Co-Opted the Rosary" before settling on "How Extremist Gun Culture Is Trying to Co-Opt the Rosary." Editors also swapped out the pic for a regularly beaded holy rosary.
THR: The Atlantic Changes Headlines After Backlash over Comparing Catholic Rosary to Assault Weapons https://t.co/BvLzc9NOD4 (BB)

— HWDRepublican (@HWDRepublican) August 17, 2022
The op-ed outlines how far-right extremists use symbols to recruit and radicalize followers to commit acts of violence and racism. Panneton claims non-traditional Catholics are using the prayer jewelry as a "weapon in the fight against evil," perverting its intended usage of today. Some stores even sell "combat rosaries" kept in containers made to look like "ammunition can(s)."
While it's true the Pope said the beads are a "weapon against evil and temptation," it is about "contemplative prayer" — not combat. As such, many people of faith were outraged by the weapon comparison. Some on Twitter simply made fun of the comparison by posting pictures of extremist nuns carrying rosaries, while others accused The Atlantic of fearing Jesus Christ.
What do you think of the comparison?
Copyright 2022, RepublicanJournal.org