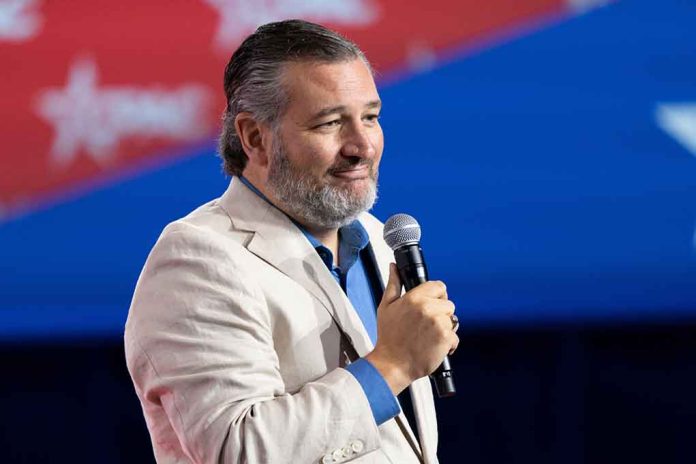 (RepublicanJournal.org) – Texas Senator Ted Cruz (R) often makes bold public statements as one of the lead lawmakers in his party fighting for conservative ideals. Some people find his comments controversial, especially those on the Left. Recently, the Texas congressman insulted former congressman and January 6 Committee member Adam Kinzinger (R-IL) after he shared a list published by the Seattle Times. The article named several people who raised doubts or shared theories surrounding the attack on Paul Pelosi in late 2022.
On October 21, 2022, Senator Cruz shared a tweet by political commentator Matt Walsh. In it, the conservative author questioned the picture the media was painting about Paul Pelosi's attacker, David DePape:
truth https://t.co/zCUHB1X6tI

— Ted Cruz (@tedcruz) October 31, 2022
Cruz was one of many conservatives who sought additional details of the attack while the public waited for more information. The Seattle Times made a list of such individuals and published it, saying the Texas senator had "amplified doubts that all facts were disclosed." Kinzinger shared a snapshot of the article on Twitter and asked readers to "hold them accountable."
Senator Cruz responded quickly to Kinzinger's tweet, calling him both "a hack and a liar." He clarified his stance on the incident, highlighting his previous stance that lawmakers needed to hold the mainstream media accountable for their portrayal of DePape.
You're a hack & a liar.

The day this happened I said it was a horrific violent attack & I was praying for the Pelosi family.

What I mocked was the dishonest media (like you) that falsely painted the attacker as a MAGA Trumpster instead of a deranged hippie nudist Leftist. https://t.co/yNFYFgpsFH

— Ted Cruz (@tedcruz) January 28, 2023
Cruz has also highlighted the fact he prayed for the whole Pelosi family after the attack was announced.
As the trial against DePape moves forward, more details are finally starting to emerge about the incident. In a recent phone call to news station KTVU, DePape told listeners, "you're welcome" for the attack on Pelosi and declared, "liberty isn't dying; it's being killed systematically and deliberately." He then made a call for "patriots" to "put their own lives on the line to stand in opposition of tyranny."
In this situation, Cruz is working hard to defend his integrity and past comments. At the same time, Americans are learning more about who David DePape is and his motivations, and they can evaluate their lawmaker's claims in light of that information.
Copyright 2023, RepublicanJournal.org