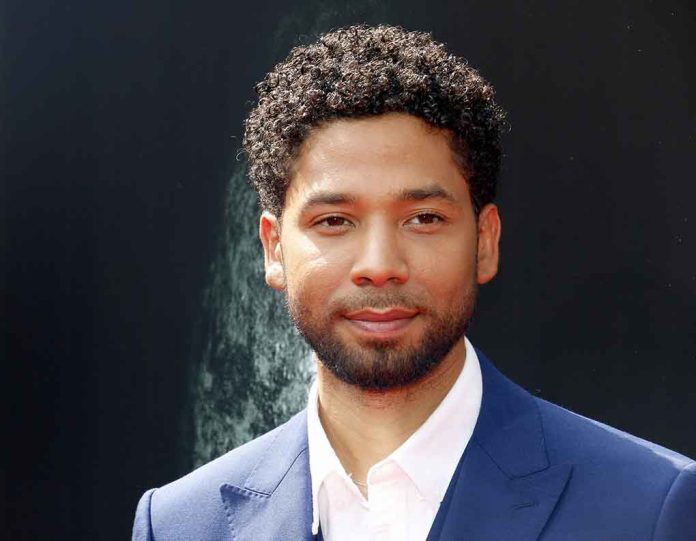 (RepublicanJournal.org) – Jussie Smollett, the 39-year-old actor who faked being the victim of a hate crime in Chicago, made a spectacle of himself after a judge sentenced him for his misdeeds. Smollett, who declined to speak on his own behalf at sentencing, instead shouted, "I am not suicidal," as Cook County Judge James Linn ordered him to be locked up.
Smollett faces 150 days in jail and must pay $120,000 in restitution to the city to help cover the costs of investigating his fantasy crime. The court imposed another $25,000 fine and 30 months of felony probation. Smollett held his fist in the air as he left. The judge had him sent directly to jail.
Former 'Empire' actor Jussie Smollett sentenced to 150 days in jail in hoax attack. https://t.co/Cd1MVhkyoY

— ABC News (@ABC) March 11, 2022
Chicago Mayor Laurie Lightfoot put Smollett on blast, berating the actor for his false claims and how much they cost the city. She said police spent $130,000 on the case and wasted 1500 hours' worth of police time investigating nothing. She expressed relief that Smollett would have to pay restitution but reiterated that the damage went far beyond just dollars.
Smollett remained obstinate, maintaining his innocence. Pulling the last of the cards from his deck, the disgraced star spouted that he couldn't have done this terrible thing, because that would mean he was shoving his fist in the face of the black and LGBTQ communities. The judge was unmoved by his efforts.
Judge Linn called what Smollett did "pure perjury." After referring to the convicted felon as "narcissistic, selfish, and arrogant," he reminded Smollett that his actions also undermined anti-hate crime efforts in general. The judge fears that future hate crime victims may be apprehensive coming forward after Smollett's farce.
Copyright 2022, RepublicanJournal.org