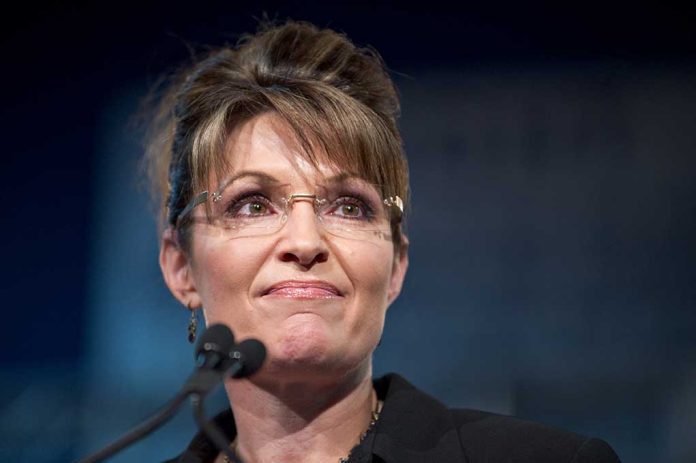 (RepublicanJournal.org) – Since her 2008 campaign for the White House as the running mate of presidential candidate John McCain, Sarah Palin has remained one of the most recognizable names in conservative politics. Her brash, no-nonsense style endeared her to some and drew the ire of others. Now, the former governor of Alaska might be eyeing a return to the campaign trail.
Is Sarah Palin Coming Back to Politics?
On Friday, March 25, Palin appeared on Sean Hannity's show on Fox News. Following an inquiry from Hannity as to her potential future political ambitions, Palin admitted she could end up with her "hat in the ring."
She insisted she had not gone anywhere in the years since her departure from public office and that she's continued to push for the adoption of conservative values in America. She also said the time may have come for her to conduct her work from an "official platform" once again.
She slammed the "vanilla, milquetoast" politics that she believes are prevalent in the United States at the moment, claiming the country needs leaders that are more courageous. Comparing herself to former President Donald Trump, she said leaders that have "nothing to lose" are what the country requires.
You can watch the full exchange in the video in the tweet below.
Palin: … I'm going to throw my hat in the ring because we need people that have cajones. We need people like Donald Trump who has nothing to lose like me. We got nothing to lose and no more of this vanilla milquetoast namby-pamby wussy pussy stuff… pic.twitter.com/49vCbLgkkJ

— Acyn (@Acyn) March 25, 2022
Why Now?
Palin's comments come following the death of Representative Don Young (R-AK) at the age of 88. Having sat in the chamber since 1973, Young was the longest-serving member of Congress prior to his death. He first entered the House the same year President Joe Biden was initially elected to the Senate.
Along with a giant political legacy, Young leaves behind a vacant seat in the US House of Representatives. Palin, who sat in the state's gubernatorial seat from 2006 to 2009, would have a certain degree of sway with the same conservative voters who elected Young.
Palin has remained visible since leaving the world of politics. She was a regular contributor on Fox News from 2010 to 2015 and hosted a number of television shows of her own. She also wrote a book titled "Going Rogue," which has sold in excess of two million copies. Her conservative, libertarian stances in areas like gun control, oil and gas, foreign policy, education, and social issues would be sure to appeal to Alaska's Republican voter base.
Would you like to see Sarah Palin back in elected office?
Copyright 2022, RepublicanJournal.org