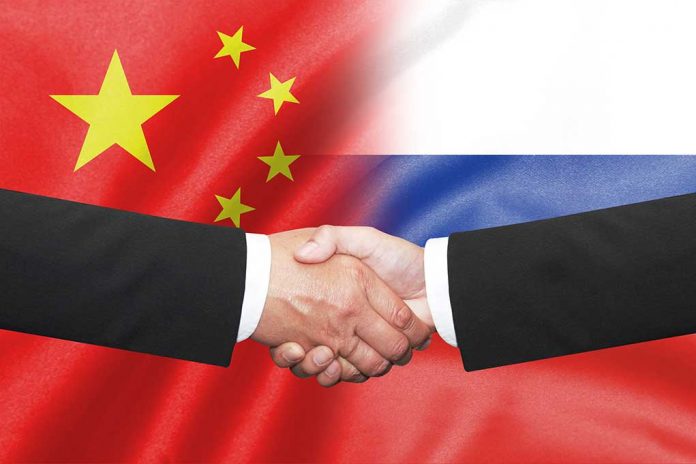 (RepublicanJournal.org) – As a nation, our plates are piled high with foreign policy challenges right now. The most immediate and close to home is the one unfolding on our southern border, where record numbers of migrant encounters and detentions continue to occur month after month. Now, there's another issue unfolding across the pond: two countries, both of which have a history of tense relations with the US, just might be teaming up against us.
Russia & China in Cahoots
On Wednesday, August 4, the Washington Free Beacon reported that China and Russia are planning to participate in joint military exercises from August 9 to 13. These drills will take place in Ningxia Hui, an autonomous region in northwest China.
According to Global Times, a Chinese news outlet that the Free Beacon describes as a "propaganda newspaper," leaders of the two countries hope to "jointly [safeguard] regional security and stability" with these operations. That article also mentions "coordination for a new era" of relations between the Chinese and the Russians.
The exercises will reportedly focus on early warning systems, joint reconnaissance, "electronic information attack and strike capabilities," and a shortlist of other military applications.
This report flies in the face of official communications from China earlier this year that a Sino-Russian military allegiance did not exist, nor was one being planned. In March, China's defense ministry stated it was still pursuing a "non-alignment, non-confrontation, and non-targeting" policy when it came to Russia.
Should We Be Worried?
If you know anything about foreign or military policy, you'll realize this type of rhetoric is likely causing major concern for the Pentagon and White House officials. Though it is difficult to assign blame with certainty in many cases, officials implicated both nations in various cyberattacks and instances of hostility over recent months.
For example, intelligence agencies believe an attack on Miami-based software firm Kaseya was perpetrated by REvil, a hacking outfit with links to Russia. The same experts also intercepted attempts by Russia to influence the outcome of the election in 2020.
Military experts tell us that the next major global conflict may occur largely through these kinds of online attacks. However, the importance of traditional, physical warfare cannot be overstated. The American military is the best equipped in the world to deal with threats like these. Yet, we need to remain vigilant in the face of these developments.
Copyright 2021, RepublicanJournal.org