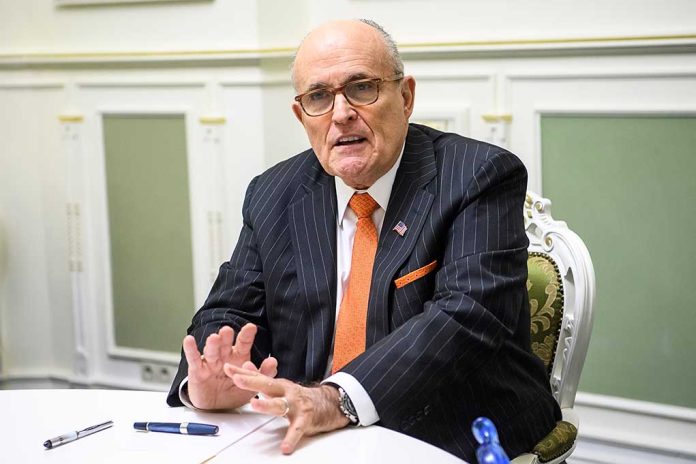 Rudy Giuliani PROSECUTION Announcement – He Supports It
(RepublicanJournal.org) – On June 26, a ShopRite employee allegedly slapped former New York City Mayor Rudy Giuliani aggressively on the back when the lawmaker was campaigning for his son on Staten Island. Police subsequently arrested Daniel Gill for the crime and initially charged him with second-degree assault, though the charges were eventually downgraded to that of the third degree. The former Trump attorney spoke publicly on Facebook about the incident, proclaiming the violence "has to stop."
To that end, he said authorities should prosecute the offender for his crime.
'He Could Have Killed Me' Rudy Giuliani Insists So-Called 'Assailant' at Staten Island ShopRite Should Be Prosecuted https://t.co/0Lf1rO7EM0

— Mediaite (@Mediaite) June 27, 2022
Based on the verbal attack from Gill toward Giuliani, the worker was upset about the recent reversal of Roe v. Wade, saying the decision is "gonna kill women."
Andrew Giuliani, the former mayor's son, said his dad is tough and is okay but blamed Democrats for "encouraging violence."
The senior Giuliani said the alleged assailant could've knocked him over and easily killed him. During his Facebook video post, the former New York leader showed outrage as he suspected that the district attorney would in fact reduce the charges against the assailant. The mayor worries that this decision will allow Gill to push over other elderly men.
ShopRite stated it doesn't tolerate any type of aggression, so the accused will likely lose his job over the incident that many, such as Eric Adams, the current mayor of New York City, believe to be an overreaction or false claim.
Do you think Giuliani is right to want the suspect prosecuted, or do you believe his response is an overreaction?
Copyright 2022, RepublicanJournal.org