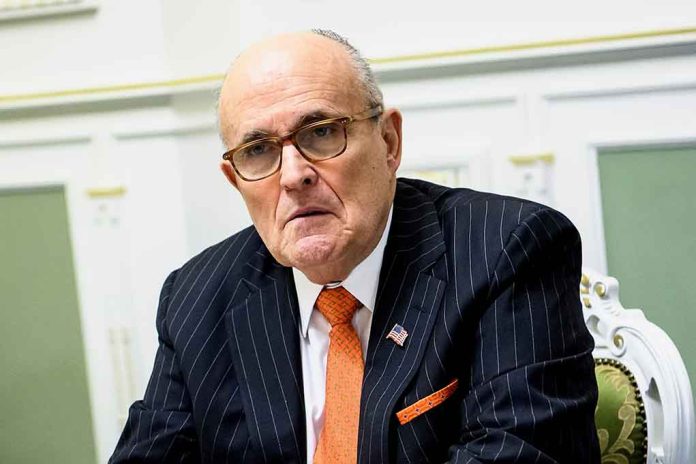 Man Who Assaulted Rudy Giuliani Is Let Off Without Charges
(RepublicanJournal.org) – Back in June, former New York Mayor Rudy Giuliani went to a supermarket on Staten Island to support his son's gubernatorial campaign. The elderly ex-attorney had an interaction with an employee who slapped him on the back and called him a derogatory name. Police arrested the man for assault, but a judge saw fit to let him go.
On September 21, Daniel Gill's case was held "in contemplation of dismissal." Because he has no criminal history of any kind and disputes the facts, the state will withhold adjudication for a period of 6 months. If he doesn't get arrested during that period of adjournment, the charges will disappear and the case will go away. Gill's lawyer contends the anticipated dismissal reflects his client's unblemished record.
Criminal Charges Against Staten Island Supermarket Worker Who Smacked Rudy Giuliani Dismissed https://t.co/1pHpHPoirT

— Brad Porcellato (@BradPorcellato) September 22, 2022
However, not everyone applauded the court's decision to defer the case for half a year. Giuliani, the victim in this alleged incident, told the New York Post that Gill's slap created "tremendous pain" on his back. He also recounted the angry, vulgarity-laced slurs of a man the courts now say doesn't deserve charges. Upset about liberal issues, the alleged assailant laid into the former mayor, calling him a "f**cking scumbag" among other colorful names.
To make matters worse, Gill filed suit against the City of New York for wrongful imprisonment, arguing that the incident cost him his job, time in jail, and a host of other issues. The young man seeks $2 million in damages.
Copyright 2022, RepublicanJournal.org